AD – This is a paid partnership with Yankee Candle – all thoughts, images and words are my own
Hello! It's time to tell you all about a new collection of Elevation candles from Yankee Candle. A few of you said to me last time, that you wish the packaging was different – well your request has been granted!
And just in time for Autumn, when, I don't know about you, but I start to think about Autumn decor, candle, fairy lights, pumpkins and such like.
So! The Elevation range is branded in a square glass jar, and the candles come in three sizes. The 
small candle
 with the one wick, the 
Medium Candle
 in a gorgeous square jar, with THREE wicks! (hurrah!) and the 
Large Candle
 that has two wicks.
They all come with a gold lid, that becomes an elevated base for the candle to sit on, so it looks really fancy!
So now I have introduced you to The Elevation Collection, it's time to get styling your house for Autumn!
I love to style up an old board I have – it gets used for loads of things, but in the Autumn, its a moveable backdrop for all sorts, and the 
Sweet Orange Spice
  is perfect for an Autumnal display. And it smells delicious – not Christmassy – just obviously not summery. It's lovely.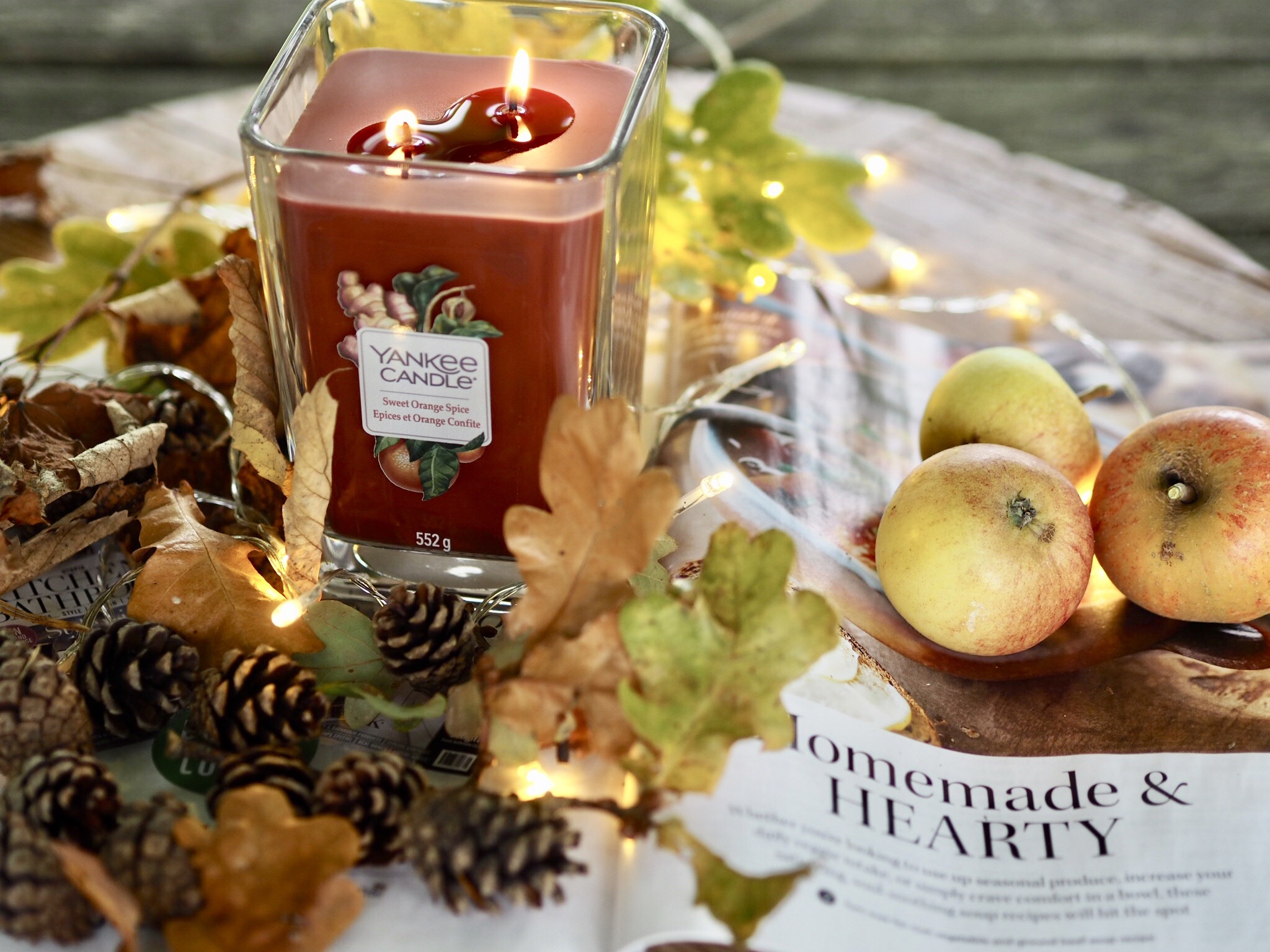 I love to have a candle burning in the kitchen, my sink doesn't look out on to a window, just a wall, so I love to make it pretty at this time of year and add my barn star and some cheap battery fairy lights to make the view a bit nicer! Having a candle here makes the chore of washing up,  less choresome.
Moving on to the 
Pear and Tea Leaf
 – This is a lovely Autumnal candle and goes very well with a grey squash (I can almost hear my husband rolling his eyes haha)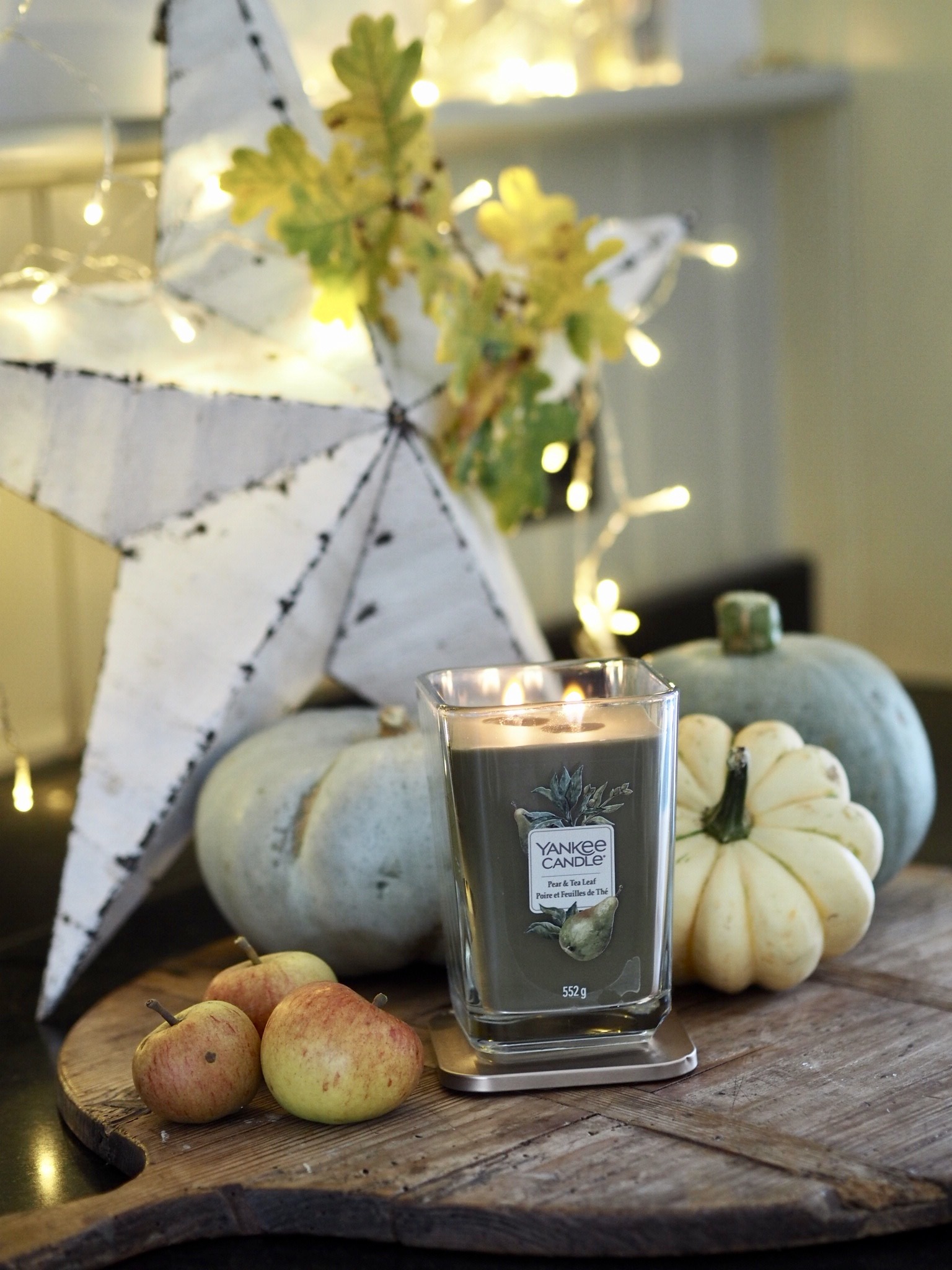 I will be really honest, when I first took off the lid, I thought this one was far too strong and wasn't sure at all – but it has really grown on me and one of the kids even said 'kitchen smells nice Mum' totally unprompted ! So yes, after a bit of early dallying, I think I like it! (Mind you , no one commented on the beautiful displays I created for this shoot – I guess that'd be pushing my luck! ) On the flip side – the scents are good and strong so you can really smell them as the candle burns down – which is why I think Yankee are so popular as a brand.
There are 12 candles in the 
Elevation Collection
 And all 12 come in the 3 sizes. With that much choice there's bound to be one or two for you to try. Price wise the small candles are £8.99, medium £19.99 and large £23.99  – I am eyeing up a few small ones as stocking fillers for my Mum (ssh don't tell her!)
How do you style up your home for Autumn, and do you use scents to help create the right atmosphere?
I hope I have inspired you !
As ever, thanks for reading!
If you have tried any of the candles form this range, what would you recommend? I quite fancy the Sheer Linen one next …
love