Thankyou for all of your feedback! I have had loads of DM's  – it seems a lot of us like a frock!
Today's frock is a complete bargain from Laura Ashley  (once again – I'm not being gifted or paid – this is just for fun)
It's the Woodcraft Print Dress. Very Autumnal and down to £21 from £70!!

Online it says it's a green colour but I think it's more grey. Also, it comes up big. I am wearing an 8.
It's really comfy and quite feminine without being too flouncy.

I paired it with a pair of grey pull on boots from Boden (last season) although these are similar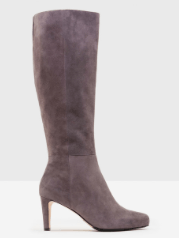 Anyway! I'd better publish this before it goes out of stock! what a bargain! Almost as good as all the stuff I found in the garden centre yesterday for a pound! The money I'm SAVING! haha
Thanks for reading!