Hey everyone, I get asked all the time, about this blouse, but I couldn't publish a blog post with only this, so I trawled H&M to show you a couple of things I bought, and a couple  of things that got away!   Every time I wear this gorgeous blouse, I an inundated with messages asking where it's from – the so yes, answer is H & M  here is the link   and it's only £17.99 (basically guilt free)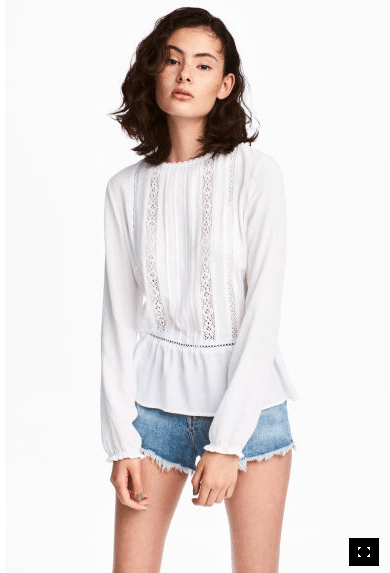 It also comes in BLACK
And while I was trawling, I found THIS DENIM DRESS which is like the on I wore on holiday, that lots of you asked about (mine was from a market in Portugal – but this one is very similar)




Anyway, I'll show you what else I bought. I was with my Mum and that is always dangerous, as she always says 'oh it's lovely, buy it' Eeeeek! lol !  And even at 46 I still usually do what she says so… here's what I had to smuggle in, under cover of dark, once I got home!

In my defence though, this coat was a bargain! you can see it HERE!
It's gorgeous, perfect for Autumn when a proper coat is too much but a  blouse isn't enough. I usually size up in jackets but there wasn't much difference between the 10 and the 12, so I stuck with the 10. As you know, I do love a flared cuff ( although apparently it's now called a 'flounced sleeve" I can definitely flounce, if flouncing is required, so whatever!)
The Mothership also forced me to buy TWO Breton tops – with fab 'flounced sleeves'  although the 'flounce' is placed much higher than the cuff, so although I bought them I think I might look like a Thunderbird… anyway, the look must be popular –  I think they've sold out as I can't find them on line AAARGHHHH
And here is the one that got away .. Might have to order it anyway. URGH I hate it when that happens.


It's all floaty and gorgeous – you can find it HERE it had a sweet gathered cuff….sigh ..
Also this. Ignore how grumpy she looks – I'd look grumpy if I had to wear that skirt with this top, but I really LOVE the extra long sleeves! (I literally could tumble dry that to my heart's content and the sleeves would probably still be ok haha) If it had thumb holes I'd be in heaven. Be nice with jeans though don't you think ? you can find it HERE – also comes in a black and white stripe.


I'm so not a fashion blogger, so I'll stop right here – just thought I'd share a few lovely finds as H&M is my new Zara. Mind you there are some random flamenco trousers in H&M too… what's going on! Be careful out there!
Happy Shopping !
Love