Welcome to Shop My Style – Some – not all – links are affiliates. Click the images to shop 🙂
Note on Affiliate Links – if you shop through my link, I make small commission on anything you buy, it doesn't cost you anything –  the commission comes through via the brand. (it's a tiny % and takes MONTHS to come through, obviously if you order a few things for sizes and send them back, the brand won't want to be paying out  commission for returned items, so the commission doesn't even start counting until the brand's returns policy time has expired and in some cases that's 90 days) If you oppose affiliate links, you can, of course shop though your own search.
If I click on a gorgeous item through someone else's affiliate link, I think they deserve a bit of commission for tracking down and taking the time to share, and definitely if I DM them and ask if it's true to size or whatever and they take the time to reply. Anyway! Transparency and trust is what it's all about 🙂 I only link stuff I have bought,  or if there's some fab thing I want to show you that's so fabulous I have to share immediately! So you can be certain I actually like it and recommend it honestly. Ok that's the boring bit over with. On to the fun bit.
S H O P P I N G …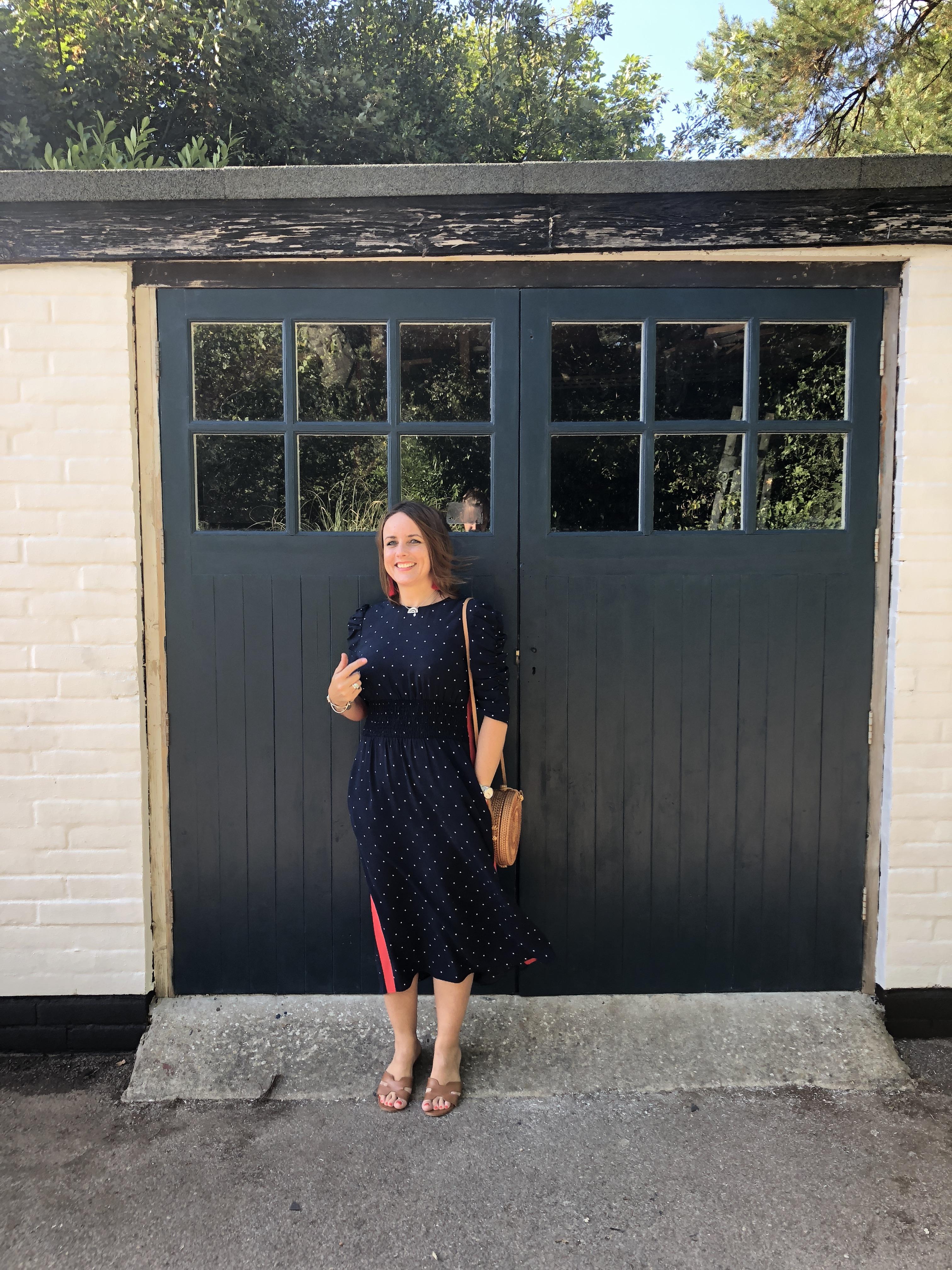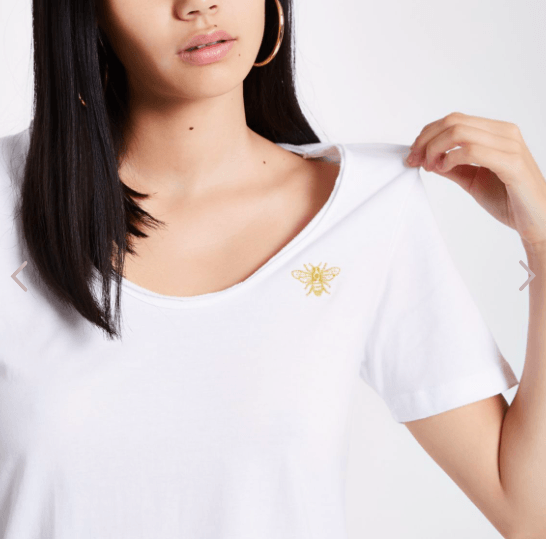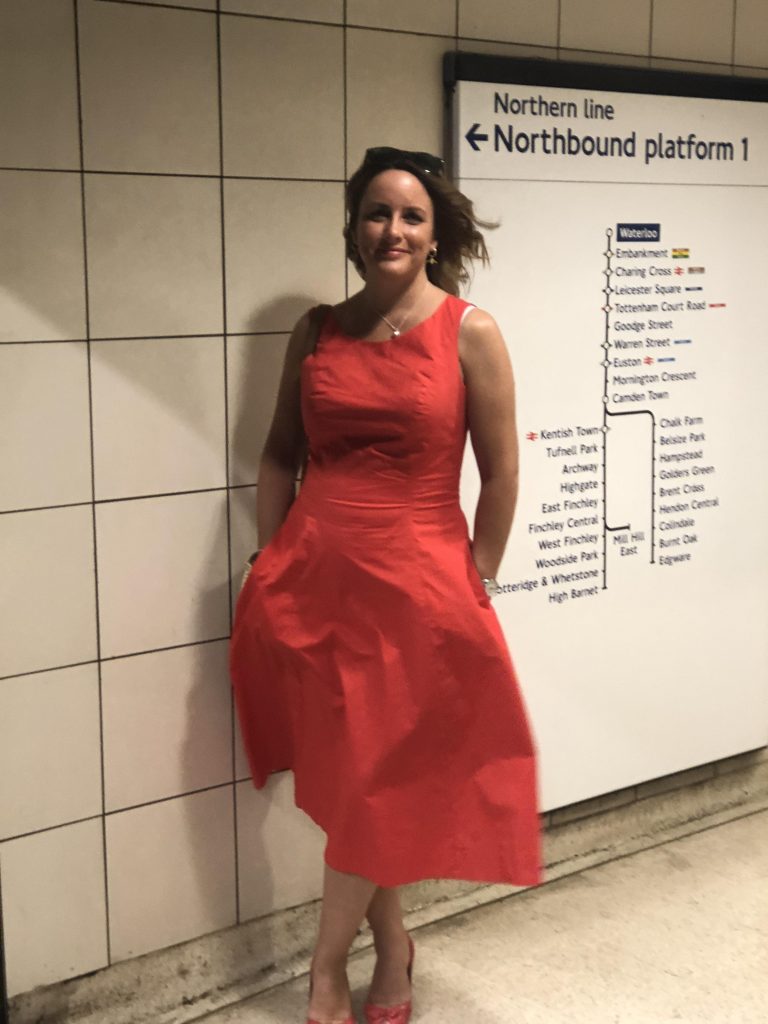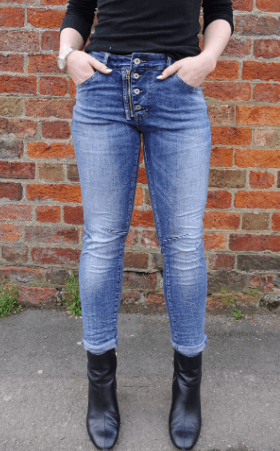 Here is the lipstick that we are all going crazy for – Bare Melon Lip Tint – I would have bypassed this thinking it was more like a salve with colour and wouldn't last 5 minutes – I was wrong! it's like a salve, yes, but the colour LASTS ! Wear alone or under a stronger colour. It tints your lips so the colour remains for ages.



While I am loving bright red corals – check these out – they are SO comfy and come in LOADS of colours


And here is a very useful dress – It's made from the lightest, soft cotton and it has POCKETS! It's only £29.99 – I wore mine a lot, in India – click the pic or find it Here!

Next up – The Door Mat!! this had more comments than I have ever known! lol – I love it and you did too!

Ok…… shoes…. These Gucci Mules are to die for, and a bit of a treat to say the least!!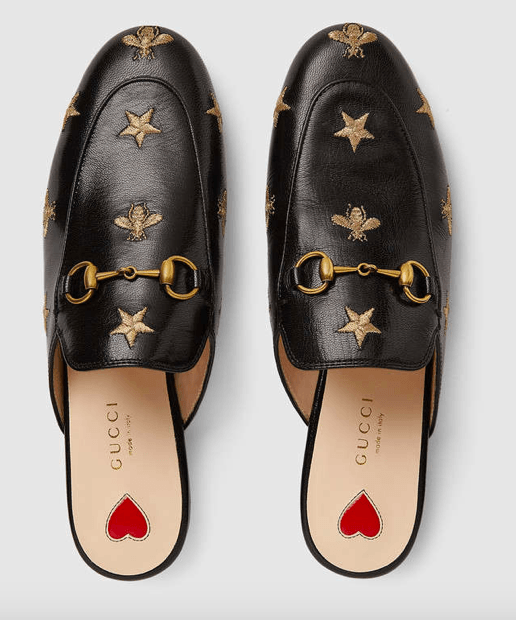 Comfiest ballet pumps ever invented… Remember to size down by half a size


ALERT! this is the best dress EVER

Here's the gorgeous jumper you have all been asking about – click the pic (btw I ordered a Medium and its lovely) And below is a couple of other bits I may have accidentally bought…



The swimming costume? (scroll down) Most engaged post ever, on my Instagram, SO many of you are ordering/have ordered it! YAY! (although I am still having a heart attack over posting it on here and pray you don't have an enormous laptop screen omg)


Here is a magic swimming costume – see the black edges – very clever! It is a dream to wear and so flattering.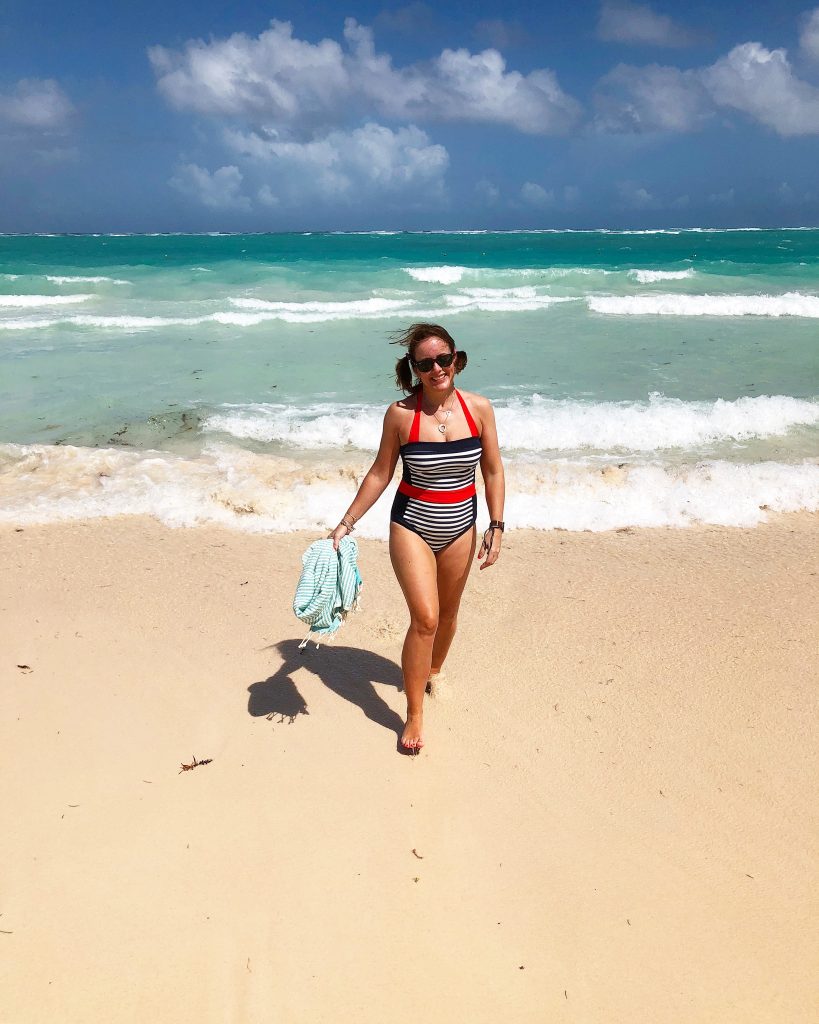 Also – here is the gorgeous 'Hello' top I wore in stories that a lot of you messaged about

Also – a lovely find from Gemma @mutha.hood … this is coming with me in my hand luggage filled with all the emergency stuff I need on the flight –  when the stewardess makes me put my carry on in the overhead locker (gahhhh!) rendering all my stuff impossible to get to for the next few hours! This little beauty can be whipped out and popped in the back of the seat in front.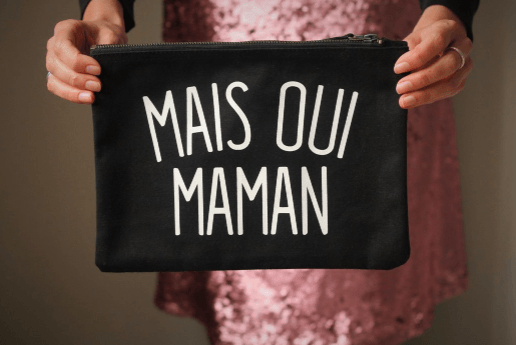 And an absolute bargain in Office …


Here is the fab jumper you have all been asking about  (Mum gave it to me for Christmas but I found it in DEBENHAMS)
Its a very pleasing clash of colours ( I like it loose so mine is a 14) And it has a FLARED CUFF! yay! (that's the equivalent of pockets in a skirt, to me! )




Meanwhile – while I was trawling to find the pink/orange one, I found this! O M G !!!



Here's a little peak at what I found in Whitestuff…. At time of writing there's an extra 10% off sale stuff too
I sized up with this jumper and went for a 16, even though the 10, 12 and 14 all fitted, I love it bigger as it's all Sloppy Jo
I love the 'V' cuffs with odd stripes
Trio Heart Jumper


And this one – Sugar Stripe Jumper – It has Elbow patches and a dipped hem! Perfect for now and for Spring (justifiable purchasement…)


 
Next up, a Summer Dress…. and a bargain!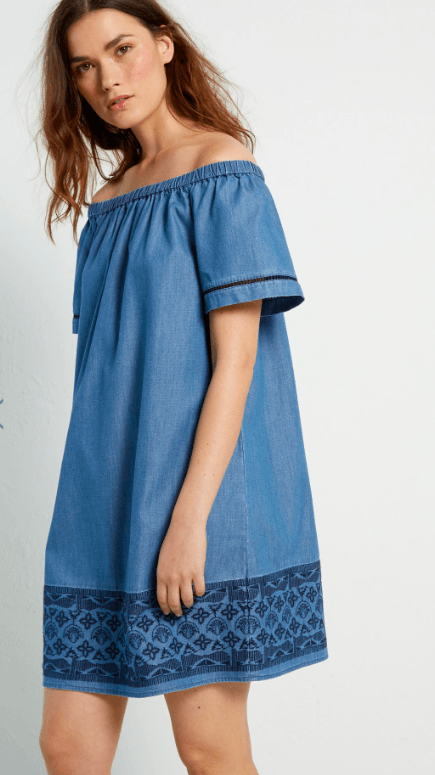 Anda fab SKIRT
£27 sale price – looking forward to wearing this!


And finally this caught my eye….This Scarf  
You can never have enough scarves after all….


And one more sneaky thing I have had my eye on… in Mint Velvet


If you look closely it has navy stars embroidered on the sleeves. It's less than half price now… and looks lovely with this T shirt underneath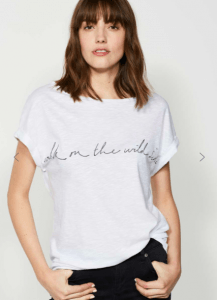 In fact… Mint Velvet Sale is all a bit fab (omg sorry!!)
Ok, that's it for clothes for now!

Here's the Storm Lantern you were asking about..
(If you fancy placing an order for over £30 – and would like a free polka dot mug, pop my name in the 'referred by' box – Sally Hurman – you can pass that on, too, with your name as the referee, for your friends)  Click the pic to go to the EB sale – namely the page for this gorgeous storm lantern. I'd have done it as a Swipe Up, but it's still broken – sorry!)



Here are my Fancy Shoes! They are true to size and have been thoroughly road tested for comfort! I wore them to work today and spent 8.30 – 5pm on my  feet and the shoes are BRILL! I took spares with me just incase, but stayed in the fancy shoes all day. Click the pic, they are in the sale, and they come in different heights – these are the flatter ones, they look fab with tights, but they'll look great with skinny jeans and a white t shirt too. Love 'em!


And here they are with a heel ! Check these out, I am loving animal print – it's basically a neutral – goes with everything!


And here is a fabulous dress I bought from Boden – it's in the sale too. They have their Winter sale on at the mo – don't look! it's dangerous !!



Also – HUSH has a fab sale on! it's one of my fav shops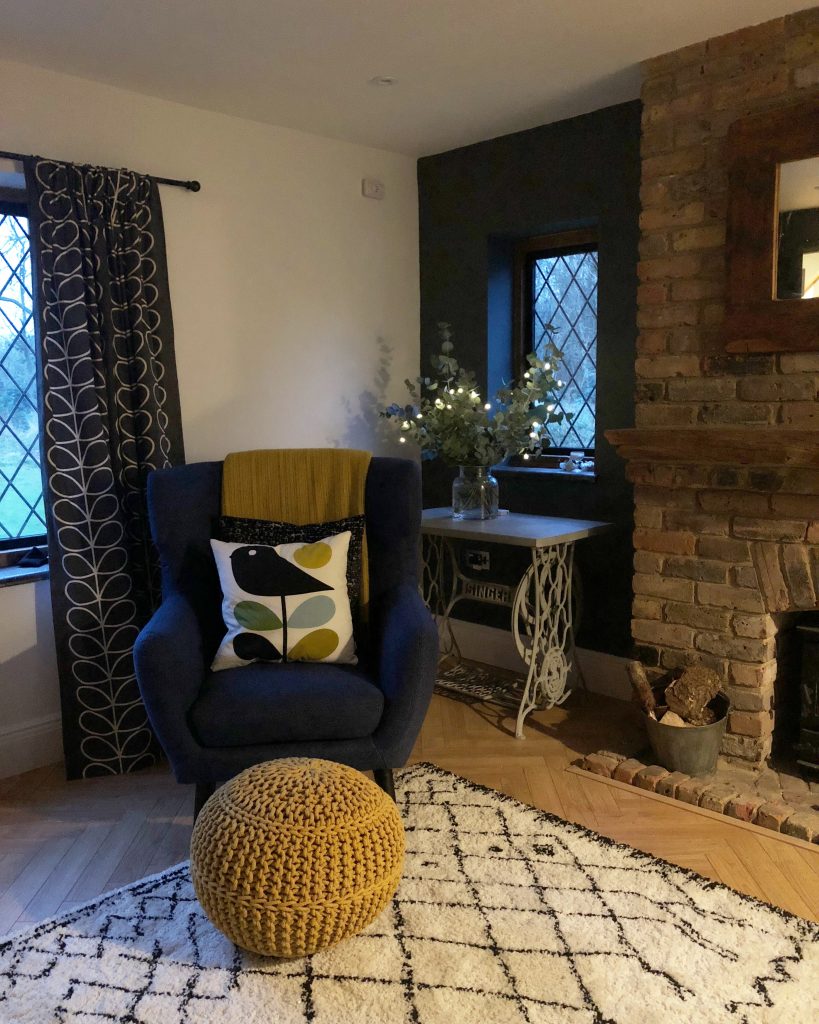 This is the Kubrick chair from Made and at the time of writing it's in the SALE

This is the jumper I am living in at the mo – it's so cosy and a great price. I love it's oversized-ness.

Here's one I have my eye on, I love M&S cashmere but I only treat myself to it when there's an offer on. Don't forget to check your Sparks offers as I got 20 % off knitwear last week. I always size up with jumpers like this as I prefer them to be a bit Sloppy Joe – So I'd definitely order a size 14 for me. Even though I am really a size 10.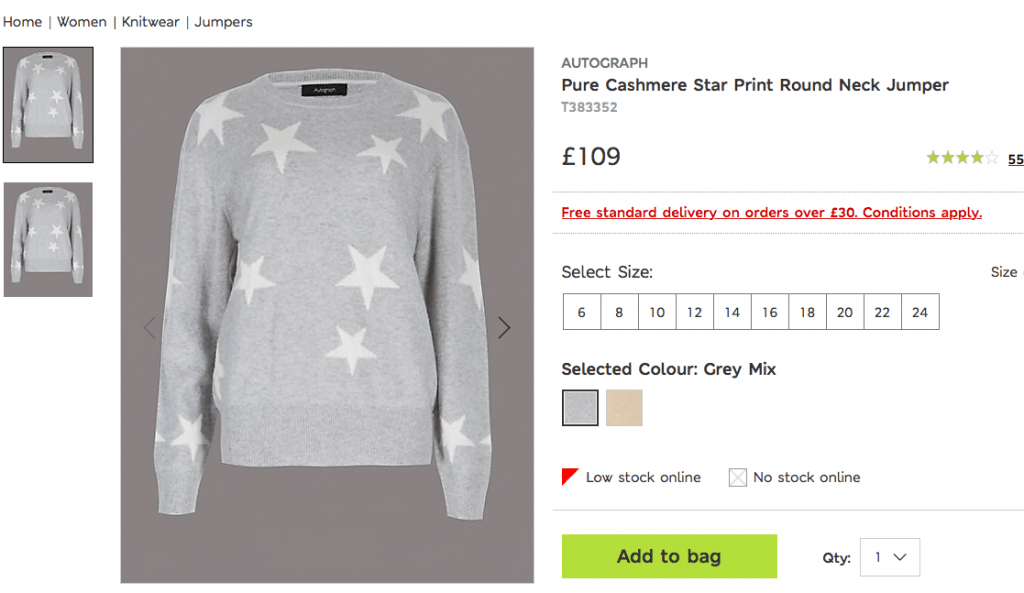 One more…. My Mum bought me this scarf for my birthday and it is SUCH a treat! Mum used her Sparks Knitwear offer- but these are on three for the price of two, at the moment, so there's even more savings to be had! (note how I can talk a ridiculously expensive scarf, round to being a bargain!)


Next up – A bag I saved up for and bought last week for my birthday! Whoop!  – from And Other Stories it's lovely size and although the strap doesn't adjust, it's still ok to wear across the body or just on one shoulder. I love the floppy postman style top, too. Its held with a magnet and the bag is lovely and deep so you won't lose all the contents by accident. (have a mooch round the online shop – the stuff is GORGEOUS ! we don't have a real shop near us, it's a disaaaaaster! Considering a move to Oxford just to be near one.)


Off to Boden now – I get asked about these boots all the time – they are super comfy and if you are quick – 30% off using the code in that red box – they look lovely with jeans or leggings.


Here too, are my fav boots that I have talked about before – they are a bit higher but still really comfy – they look gorgeous with jeans OR a dress and tights as they have a lovely sweet heart shaped front, much nicer than just straight across, more flattering when you wear them with a skirt or dress I think. Lovely in Navy, too…


I think that's it for now
I am quite enjoying finding and sharing all this stuff ! Some links are affiliate links which means I may receive a small commission – I won't be giving up the day job anytime soon though, so far I have earned enough to buy a Boden dress and I have been using affiliate links for nearly 10 months – hey ho! Better than a poke in the eye as my old Granny would say!
Happy Shopping!
Love