It's here! But shhhhh don't let on we have noticed!
This is part of my Paid Partnership with Very. So I must mark it AD. I hope you find the content useful. I really enjoy tracking down this stuff as the Very website is ENORMOUS!
Is it just me or has April felt really short? We are speeding through the year and the evenings are light again at last! Isn't it fab!
If you have followed me on IG for a while, you'll know about my love of an outside rug, and the revelation upon discovering that that's even a THING!
I spotted this one from Very and it's really reasonably priced (£61.99 for this size) My tip for outside rug buying, is buy the biggest you can afford and put the edges of the outdoor sofa, on the rug, so it looks like the rug disappears under the furniture. It feels very decadent to have an outdoor rug and it really transforms the space.
If you have a patio table whether it be round or oblong,  just place that in the centre of the rug.
This rug is reversible. I will leave it outside all summer now. Even in the rain. They usually dry quite quickly and if there's a lot of rain and I'm struggling to get it dry, I'll just sling it on the washing line to drip for a bit.
I  am not precious about it, I want to use it and love it and enjoy it. (I AM, however, precious about the patio furniture cushions – they are stored every night, safely in a big outdoor storage box thingy – unless the forecast is like last Summer, then I might risk leaving them out!)
So now we are outside again and enjoying the sunshine – what to wear?
I absolutely love the Fit Flop shoes you can buy. But they absolutely hate me! The toe post is always in the wrong place and I feel like they are about to fall off, all of the time. I have tried and tbh was relieved when the dog ate one !
I spied THESE in Very and HOLD THE FRONT PAGE!! No toe post! *cue angels singing and confetti cannon being fired!
They are BRILL! I tested them thoroughly by walking a 16km cliff top walk, in Cornwall last week and they are now going to be my every day cliff top walking shoes. Couldn't fault them (except maybe I'd have liked the sole not to match the upper…clutching at straws, but how nice would they be with red soles and black uppers.. or turquoise and fuchsia… who do I call about this?)
These trousers caught my eye and they are a really good wardrobe basic – excellent for work as they are comfy but smart. Size DOWN.
 The Beach Bag link is HERE (it's £15)
As ever, the nation's love affair with a decent dress, continues and I found this one – in all its golden silky finery.
I'd say it comes up a little on the generous side so if you are unsure or between sizes, I'd size down one size. I am in a 12 and it's fine, but the 10 might have been better. I think it looks and feels much more expensive than it actually is. It has lovely detailing – no pockets – but I'll overlook that because it has gorgeous sleeves and a gathered cuff and collar. I love a dress – it's a no brainer in the morning isn't it – this looks lovely with a denim jacket too.
I paired it with these shoes – I have had this style of shoe, loads of times over the years as the heel height is so comfy and they look good with any outfit. I don't think I could walk a 16km cliff top walk in them, but they're certainly comfy enough for an afternoon shopping! (£22)
I almost didn't share this pic as it's daft. I am not very good at taking pictures myself so I thought I'd just go default and turn upside down ( I am a master of a headstand but thought that might be a bridge too far lol) I might always take shoe shots like this, in future haha!
I'm going to share these jeans again – I didn't think I could wear wide leg, cropped jeans for fear of looking like an Oompa Loompa, but once I chopped a couple of inches off, suddenly things looked different ! Keep an eye on both of these colours they come in,  as when I ordered them they were £16, they are £30 at the moment. They are really good jeans.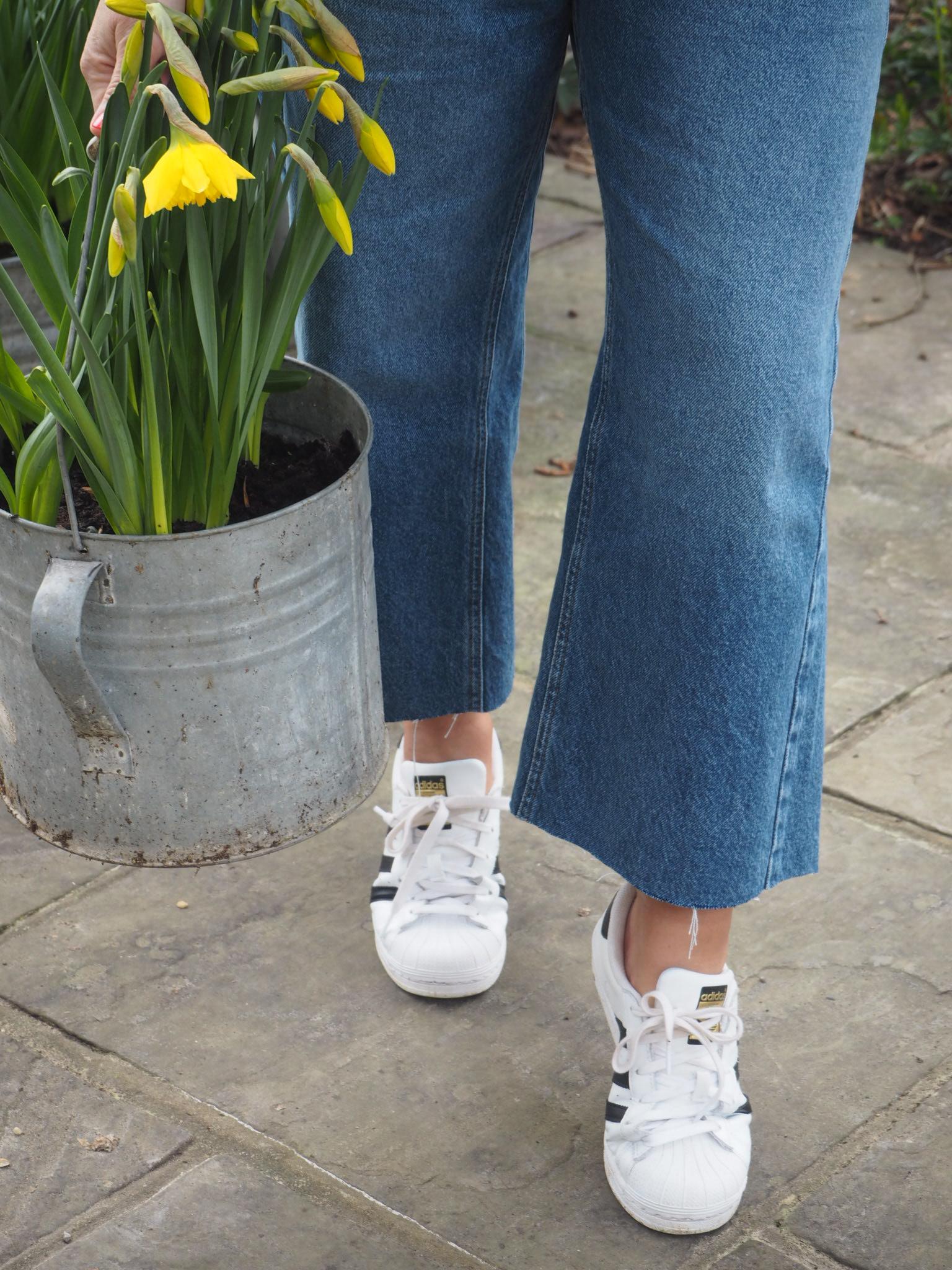 Nice with heels too.(I have chopped off another inch or so since this pic was taken and I have lived in them)
So that's the round up for April – I hope you like the bits I find for you – I try to keep a variation of cost, but I must admit I enjoy hunting out the bargains! I'd love to know what you think ?
As ever,
Thankyou for popping by – I have a bathroom update coming in May – and I am planning a round up of a brand you will recognise that I know some of you love!
Love