Style By Region With Wayfair – Cottage Style Bedroom

If you have been following me on Instagram, you'll know that I am the proud owner of three teenage boys. I think that teenage rooms are a bit of a sticky wicket – especially boys' rooms.
It seems a common problem as I get lots of messages about it!
Sam's room (he's 18) desperately needed a  makeover – but I also had in mind that as he's at Uni now, the room needs to double up as a guest room, without losing the essence of the fact that it's very much still his room.
We live in a cottage, and so I wanted to be sympathetic to the style of our house, too. so when Wayfair got in touch asking if I'd like to work with them on their Style By Region, campaign – I jumped at the chance!
Wayfair recently took a look at what style of furniture UK consumers bought over the last 12 months and found that region to region, the country is as diverse in its interior preferences, as its accents! The South East of England, according to the information that Wayfair collated, favours Cottage Style .   I love that style, so let me explain a little what Cottage Style means to me.
I think it's modest and cosy. It's colourful and comfortable. It's characterised by painted furniture, graceful lines and textural materials.
Here, I can share some ideas with you, so if you love this style too, you can recreate it in your own home. You can find other regions/ styles  Here
Beds! Sam previously had  a very heavy storage style bed in his room, it looked like a big lump and did nothing to make his small room look spacious – it also ended up being the opposite of what we bought it for – it stored nothing useful and was full of stuff that we took straight to the tip! So the first thing on my list was a new bed frame.
In the past I have always thought that a bed should last forever – but actually, bed frames don't have to be an expensive item to change (I still believe a good mattress should last 8-10 years ! The frame, not so much) So I spent a while investigating the VAST stock that Wayfair has online – If you aren't familiar with Wayfair, let me tell you that they are one of the largest retailers of home furnishings and decor – the choices are HUGE, if they don't stock it, I suspect it doesn't exist! (also worth noting free shipping on orders over £40)
I settled on a this simple black frame.  – You Can Find It HERE, it is£108 which I thought was fantastic value and key to creating the style of his room.

I am sure you will have noticed the ongoing trend for huge rugs that go under the bed – I LOVE this look as it really gives a sense of space. Hotels have been doing it for years!
I really wanted a natural rug and settled on This One !    It comes in two colours and lots of sizes, I chose the lighter colour as Sam currently has a dark carpet and felt the lighter rug would lift the room. It epitomises cottage style and I can also imagine it under a scrubbed pine kitchen table with mis-matched chippy painted chairs, or in the lounge wth a roaring fire and squishy sofas piled high with cushions.


I chose a very large rug (122 x 154cm) with the main aim to have it running under the bed and poking out a little, either side. I love that look, it really helps to make the small room appear more spacious.
Even though we threw loads of stuff out, Sam still needed storage in his room – he has a built in wardrobe, and the airing cupboard is in his room too , the space is slightly awkward and it's not a square room- we decided that a bedside unit could double up as storage and we picked this – it's a lovely soft grey rattan – not yellow or orange, it would also look perfect at the end of a single bed – Wayfair also have wider sizes that, had we had more room, would have looked gorgeous at the end of his bed. Continuing with the Cottage Style, it would also be lovely in a hall or boot room to neatly hide all the shoes! 

Wayfair has a vast range of bedding, I usually prefer white, and was delighted to find a white cotton set with a grey pompom trim – I am so grateful that none of my boys ever wanted football bedding (gahhhhhh) And now they are older, I am still grateful that they trust me to choose the bed linen! Sam has a double bed, but the duvet is King size and gives a pleasing drop, either side of the bed.  Wayfair has a vast selection of Bedlinen and brilliant filters to help you find exactly what you are looking for. I chose this for it's simplicity and plan to add a sumptuous knitted throw when the weather turns cooler again- one like this

We felt that we needed a focal point in the room, and This Clock is perfect! In the style of a gentleman's pocket watch, and painted in white and soft grey, I love the over sized shape and nod to the past. It looks lovely against a dark background too.

And the beady eyed will notice the Scatter Cushion – a moot point in a teenagers room! Rolls eyes at teenager…  But as this room doubles as the guest room during term time, I can fluff cushions to my heart's content when he's away!  Remember to use textures to keep the Cottage Style theme running, it doesn't  have to be in your face, subtle is good, otherwise the style can look forced.  Weave it gently through your space instead. The chunky knitted cushion and the wooden buttons feels just right.  You can find similar grey pompom cushion covers Here  Layer textures and fabrics to create a welcoming and cosy focal point.
I love the injection of colour – Sam has Roman blinds in this room as the ceilings slope which makes hanging curtains a trial, but the fabric is very similar to this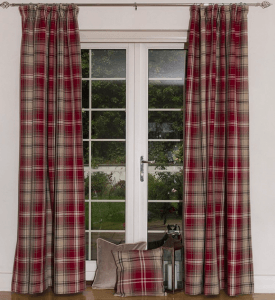 I really didn't want to faff around changing everything when a swift change of a few key pieces would  be all it took. The walls and blinds were absolutely fine so that saved loads of hassle. One thing I like to do, as of late, on a feature wall, is paint the woodwork in the same colour. So the dark wall in Sam's room was updated slightly by painting the wardrobe doors and the skirting in the blue, too. I am much happier with it! We are conditioned to always paint the woodwork white – well I am – but the wall looks so much bigger now without the white wardrobe doors breaking up the continuity.

I like to switch furniture around.  Sam's bed looks equally at home against this wall, and it's an idea to make sure any pictures or clocks can be switched too. We bought the chest of drawers at a flea market for about £80 and I painted it years ago – It's worth having a hunt around auctions or antiques fairs near you, to find quirky pieces to make your room even more individual. Remember to keep your furniture shapes soft, with curved edges and ideally not glossy! But not too curved or you'll be heading off down the French route! Ooh La Laaa!
Here are the links to the different Regions –
Scotland –  Scandi Style –                                       http://www.lifeineight.com/2018/04/scotland-loves-scandinavian-style.html
North East – Glam – https://comedowntothewoods.com/2018/04/22/the-glamorous-north/
Wales – Rustic – http://hyggeforhome.com/rustic-refresh-with-wayfair/
London – Mid-Century/Retro – https://www.goldisaneutral.co.uk/home/2018/4/18/make-like-kate-and-get-the-london-look
South West – Coastal – https://www.devongirl.co.uk/myoffice
And here is a rather fabulous map, to Illustrate Style By region by each region! – Can you see yours and would you agree?


I hope I have inspired you to update a room – it didn't take much and it's SUCH an improvement -Wayfair kindly supplied the items I used, to give you some ideas for your own rooms.
As ever thanks for reading!
love