I am sure you noticed that recently I went on a trip to Belfast! It was a whistle stop 26 hours!
Let me start from the absolute beginning as quite a few people have shown interest in how it all came about. And in turn this might turn in to a post about how friendships blossom!
So, you have an IG account, right? You 'like' pictures and in turn, people 'like' yours. One day you might get a bit brave and comment on a picture, and in return you might get a comment back – then perhaps you allow your personality to show a bit, and you might say something funny – and you are delighted when the other account shares the banter back! BOOM! You have a new friend that lives inside your phone! In a nutshell, that is how most of us 'met'. Not at a fancy press event, nothing like that! With the exception of Scrapbook Mama – I met her at a press event – like for 5 minutes – TOTALLY loved her in that 5 minutes and KNEW we would be friends -luckily she felt the same haha! (Jeeze! I hope she did! OMG am I a stalker and she's just going along with it…!?!?)
I love how, no matter where you are in the world, you attract like minded souls – and I love IG for that – although Geography can get on my last nerve sometimes as the 'garden fence' we chat over, can sometime span continents real life. Gahh! I can't just pop round!!
So there we are- a wee group of us that is by no means exclusive – that 'met' through a love of humour, nice pics and a love of similar things. And I am sure that is happening in spades, all over Instagram. I hope it is!
Some of us met last year and were lucky enough to be hosted for afternoon tea, at the Berkeley and you can read about that, here .
Ok! so that's the background bit !
This time we really wanted to meet up in NI – we all jokingly called it a 'work do'  – we are, after all, colleagues with a job in common, as well as friends! And as luck would have it – Jo Malone wanted to host us for a lovely evening in the huge J0 Malone in the H of F store !
Anna and Laura Ann were head of logistics and we were very lucky to stay at the beautiful Fitzwilliam Hotel, in the heart of the city. This was my second stay at The Fitz and once again, it didn't disappoint, the rooms are  gorgeous, so stylish and spotlessly clean, with comfy beds, crisp linen and a really FANCY mirror in the bathroom that doesn't steam up!!
And the staff are SO friendly and helpful, which makes all the difference doesn't it!



We were all starving – so not long after arriving, we sat by the fire in the beautiful meeting area, and had a delicious afternoon tea – with champagne, of course!



We were due to visit Jo Malone at 6pm so we were off of  for a quick change and took taxis to House of Fraser where the lovely girls at Jo Malone were waiting with sweets and cocktails!


We were really lucky to be given goodie bags containing Peonie & Blush Suede, which is gorgeous when layered with the Nashi Blossom that I may or may not have accidentally bought at the airport on the way home… Apparently they won't let you leave NI without a bottle of Jo Malone. And I am no rule breaker.
The new Blossom fragrances are absolutely delicious.
So we wafted out of J0 Malone and our next stop was a delicious evening meal hosted for us by Cafe Parisien – our waitress was wonderful, she was so friendly, helpful, knowledgeable and fun! She guided us to our table and the VIEW !!! If you ever dine here – you must ask for this table – it's AMAZING!! And the food is REALLY GOOD!


It was quite chilly outside but we are hardcore Instagrammers and took to the balcony for some pics ( I say that, I was all warm and cosy indoors and dragged out by Laura Ann haha!!)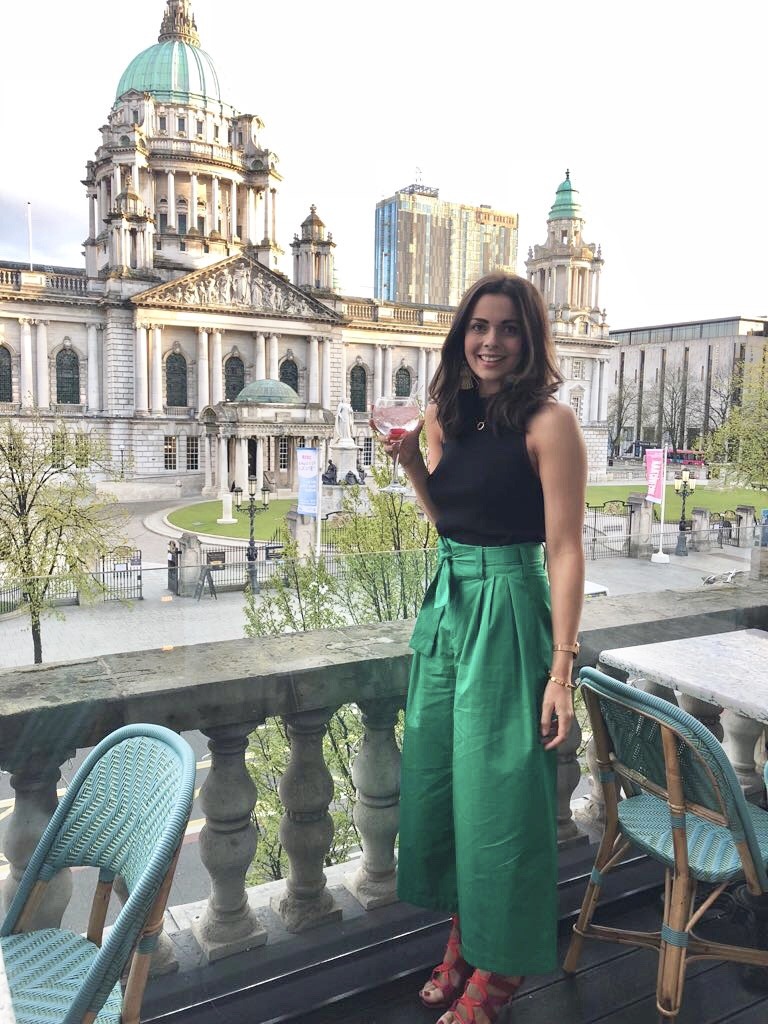 Finally, no trip to Ireland would be complete without a Guiness, so we jumped in taxis and went to the best pub I have ever been to! It was ALIVE – on a schoolnight – live music, dancing – SUCH a buzz, I loved it!!Here!
Belfast is such a friendly, vibrant city – I would whole heartedly recommend it to anyone – such a quick flight too! (I think our Easy Jet flights were around £70 return)
We all bid a fond farewell to each other at the airport – we had SUCH a lovely time together and I feel so grateful to that little app on my phone called Instagram. Without which, I 'd never know these amazing women. It just goes to show that friendships are not bound by geography, age, race or time. Friends pop up just when you least expect it – and I am so proud to call each one, my friend. (Even though I worked out that I am just about old enough to be Charlotte's Mum !! We won't speak of it)

As ever thanks for reading!

Love