(note – this post was written 3 years ago but has been updated with more thoughts at the end)
So, your baby is off to Uni? Mine too! How did that even happen? It's only ten minutes since they started school, isn't it?
Sam, our gorgeous middle one, is off to Loughborough. And our lovely eldest will be going on to his second year in Bournemouth this September, so that's TWO out of three leaving the nest! WAHHHHH!
I remember last year – shopping with Jake once he knew he was IN! As that's the other thing, isn't it? Unless your son or daughter had an unconditional offer, you probably didn't want to tempt fate by buying the entire contents of Argos, just incase there was a last minute 'gap year'
Before you start making lists – make them a dentist appointment, and make sure they have had their immunisations, especially the meningitis one, you should have had a reminder from your surgery.
I must admit, last year, the shopping all felt a bit last minute. Not that that mattered really- as long as you have a car full of stuff for moving in day, it doesn't matter if you bought it the month before, or the day before, I guess!
Anyway – I thought that with two of them off, that I'd write you a list of essentials for a first year student, off to Freshers and to stay in Halls. It won't have EVERYTHING on it, as clothes are fairly obvious. (Just remember the season will change while they are there)
HERE is a link to a really comprehensive guide
Consider what to take the clothes in? A suitcase? A big squishy bag like the huge ones you by for a few quid in markets? Will you be taking the suitcase home? Will your son or daughter be travelling back home for visits on a train? Dragging a massive suitcase across the country on a train isn't any fun, so if they are planning on popping home, I'd leave them with a carry on size suitcase and a back pack.
Take the huge suitcase home with you, or ditch the holiday suitcase and just use squishy storage bags. The car will probably be quite loaded and suitcases don't squish very well.
Don't splash out on posh stuff. Most of it won't make it through till Year 2 anyway! If it comes back home, think of it as a bonus!
Some Halls will often supply stuff like kettles and toasters and a microwave, so definitely check that with the uni.
Some supply a desk lamp, pin board, waste paper basket and, if your son or daughter is in a room with an ensuite, they might supply a loo brush too. So it's always worth going back to the info to see just what's included.
Once they have secured a room, find the flatmates! Bournemouth didn't make it particularly easy, but Jake found a forum on FB and did a shout out asking if anyone was in Flat 13 etc etc, and 3 of the others replied so it was great as by the time they arrived on Day 1, 4 out of 6 of them sort of knew each other, as they'd had loads of chats on snapchat already.
Also, they sort of discussed what they were all bringing, between them. ( I had visions of 6 kettles and 6 toasters arriving lol) But they decided between them to have a kitty and all go to Morrisons and buy that sort of stuff between them. We had bought a £5 kettle in Tesco and took it with us mainly so I could make a cuppa when we got there!
Most flats in halls need a couple of kettles and toasters for the 6/8 or more flat mates.
So I will start with the room. This one was what we referred to as The Hobbit Room. It was TINY . There was a bright orange street lamp right outside that flickered and kept Jake awake, So I bought a square of blackout fabric and cut it to the exact size of the window,  & some velcro – the stuff you can get that's half stick (stuck that to the window frame) and half sew, that I sewed to the blackout fabric. Sorted. He was then able to velcro himself a pitch black room and a good night's sleep. (Or could happily sleep all day. Students, you know) 

Check the size of the bed ( Sounds obvious but we inadvertently booked a 'basic' room for Jake – which was code for a RIDICULOUSLY small bed – not even a single, poor chap, he's 6ft3! See pic
Mattress toppers are a bit of a plan – you don't need to necessarily bring it with you on moving day, but if the mattress isn't very nice/comfy, you can always order one online and have it delivered it to their address (the 'deliver to a different address', option)
Duvet 10.5 tog
2 x pillows
I'd highly recommend GREY bed linen. Let's face it, it'll probably end up grey anyway.
They'll need two sets. (One on the bed until Christmas, and one in the cupboard to be left in the cupboard…apparently. Groan) Don't forget a couple of sheets too.
A big squishy cushion. (here is a fab one!)  Jake thought a cushion was a ridiculous idea, but he used it all the time, mainly to prop himself up whilst playing Ps2 games on his TV
TV – even if you don't take one, they still need to buy a licence to watch stuff on their laptop.
Fleece throw – depends on when the Halls put the heating on of course, but might be handy.
We took Jake's rug from his room at home, as the floor was laminate. It made it lovely and cosy but it's not vital. Would be good to cover up a gross carpet though)
A desk/bedside lamp. (some unis provide them so check) EXTENSION LEAD – so handy.
A bin – Recommend plastic one as it doubles up as handy receptacle after a heavy night out. BLEURGHHH
Pop up laundry bin – vital! just a cheap one from Primark will do….
BUT to make it super easy to carry the washing to the laundry room, I'd maybe get one with handles.
Laundry basket.. debatable and depends on space.
(ensuite rooms) – bath mat x2
Hanging soap caddy thing
loo rolls
loo brush ( but check as sometimes they are supplied, Cranbourne in Bournemouth supplied one)
Towels – 2 bath sheets and 2 hand towels
Soap, shampoo, toiletries to start them off
Non ensuite rooms – flip flops for the shower
Some rooms have wardrobes, some have underbed storage – if you know there will be a wardrobe, I'd really recommend a wardrobe caddy like this for all the folded stuff as it stores loads and frees up valuable space.
Don't forget coat hangers.
They may not have anywhere to dry their bath towels so I'd definitely recommend an over the door hook.
If there's a radiator, an over radiator airer is an idea.
The big, collapsable airier we bought, came back home, unopened. Yet it was the item that I had read was the most vital item. So I'll leave that with you to decide!
Basic cleaning supplies like bleach and shower cleaner and a cloth or two.  You might as well bring stuff like that as it's unlikely to be on their list of priorities when they are doing their own shopping.
And last but by no means least – take a door stop! All the doors are fire doors and shut if they aren't wedged open, and on moving in day it's MUCH more sociable to have open doors in the flat.
Kitchen – (remember this stuff doesn't have to be posh or new. Give the kids the old stuff and treat yourself to replacements!)
2 mugs
2 plates large and small
2 bowls
2 glasses
a big and a small frying pan
big and small saucepan
cheese grater
pyrex jug (can be used for lots of things, prepping eggs for omelettes etc)
selection of cutlery
cheap wooden utensils, sieve, tongs, scissors, a couple of sharp knives, cork screw, peeler, masher, egg flip.
Oven tray for chips etc
Tea towels, washing up liquid and cloths, oven mitt.
A lasagne dish for two, so they can have the other half of whatever they cook in it, the next day. Enamel is good.
Other Bits –
Cook Book  – I bought THIS ONE. Jake really rated it as the recipes were really easy and required no special equipment such as scales. All the measurements are in 'mugs'.  I marked a few recipes and left silly comments on the pages, before he left, so when he flicked through, it would make him smile. Also, more likely to try a recipe! They might prefer a recipe App  – highly recommend the Tasty App – download it and have a look, it's brilliant.
Stationary – A4 printer paper, all the pens, folders, whatever you need for the course
Plastic / laminated /waterproof (beer proof)  playing cards.
Sewing kit,
First aid kit – especially for Freshers to combat Freshers Flu,
A container full of emergency items – i.e. – £20 in cash, condoms, paracetamol, blue tack, safety pins, lip salve, cool and soothe migraine strips, savlon, blister plasters, phone numbers on a piece of paper. Spare phone charger, battery power pack, batteries, torch, pen knife, fold up shopping bag/s.
And we bought a few extra bits, cleaning stuff wise – the room will probably be spotless, but if its not, you can have a quick whizz round.
We also took a heap of stuff like pasta and rice – of course you can get it all there, but the roads are gridlocked on moving in day, and shopping for supplies might be very difficult, especially as your son or daughter will most probably not want you to hang around! So a loaf of bread and some peanut butter or something might be an idea. Pizza for that first supper in halls… Milk and teabags obviously, so you can have a cuppa for the road before you leave.
And alcohol. Much as you might need a gin, it's not for you.
You'll probably need tissues for all the crying in the car on the way home, though. I needed loads. Gav didn't… He thinks he's so funny. Rolls eyes.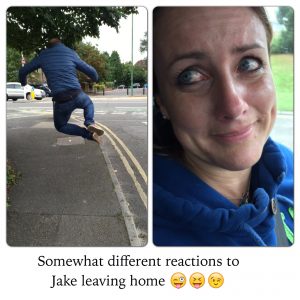 So, there we have it – I have most probably missed out some vital stuff, but hopefully, I have started you off! Wherever you are off to, remember, there will be shops!
Feel free to add any handy hints in the comments!
Love


PS – Update – our big ones are now both home again after graduating this Summer (well… ACTUAL graduation has been postponed, obviously, but they both completed their courses and came home with decent grades!)
I will say that of course it's weird and empty when they leave, but they do keep coming back 🙂 The holidays are surprisingly often and long. So any empty nesters out there, please try not to fret. I think that as long as they are happy all is good. Settling in may take a bit of time and that is hard for us at home because if they are unhappy…well,  the saying is 'you are only as happy as your unhappiest child' and that is difficult when there are miles between you!
Depending on how your son or daughter feels, I also recommend the Zenly app. It's like Find My Friends I guess, or the snapchat map. We all have it and it is 100% NOT so I can stalk everyone. It is 100% so if I awoke in the night worrying, I could check their location and see that they were (or at least their phones were) in say, halls, or wherever. The locations soon became comfortingly familiar. It made me much less anxious. Especially when they were travelling home as their little blue dot was live and we were able to see where they were on the journey home without having to message them. Equally, they could see our location and know everyone was where they should be. We all found it hugely useful and not weird. But other kids might feel they are being tracked and I get that. Ours found it useful as it also meant any one of us could see the location of their phone if they were to lose it somewhere!
It might not be for everyone but it worked for us and helped me as their Mum, feel less anxious. ( I think they humoured me haha) Make sure they have enough storage on their phone to run it. I haven't found it drains the battery.
(Don't forget to pack face masks and a vat of hand sanitiser )
I think that's about it on the update front. The 3 and 4 year courses respectively, went in a flash and they are home again. The nest is full (as is the washing basket. Groan)
I must admit though, while they were away I would walk past their tidy bedrooms and empty washing baskets and do a little skip haha! Equally, the wonderful excitement when they came home after a long stint was off the chart!!
Good luck to yours if they are starting, I guess Freshers week might be a little different this year and navigating starting Uni along side managing social distancing won't be easy!
One thing our young people are really good at is adapting! Good luck to all! Hopefully this has helped with some ideas for you!