Meeeeee aaaaaand Mr Jones
Some of you might be too young to sing the tune to my slightly updated song title  – but now it's in my head like an earworm! Apologies if I have passed it on! Lol
So this is a Bathroom Makeover Post, all about updating the very tired and dreary bathroom, that we installed ten years ago, after a year long house renovation at a time when we had no money, no energy and no inspiration left!
Thanks to a fabulous day out at the LA SS17 Press Day, inspiration struck & I finally found my bathroom mojo!
You see, Laura Ashley had laid on icecream for their visitors, and in the rush to grab some (v unlady like, but it was salted caramel! I mean!) I fell over the tile samples! And while I was picking myself up, I realised I was eye level with Mr Jones. And he cast his spell on me! It was love at first sight.
Mr Jones is the most gorgeous tile, that comes in Dove Grey and Charcoal, and it was the Charcoal version that took my fancy.
I teamed it with the Artisan wall tiles, in white – but there are some beautiful chalky colours in the range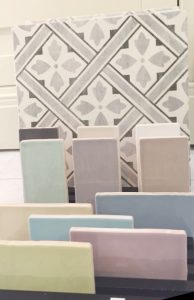 *NOTE!  Cat – if you have better tile images – please use them *
We decided to use a light grey grout on the walls, and a mid grey on the floor –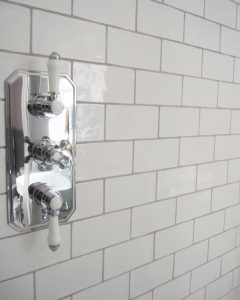 The tiles are British made, as you would expect from a brand such as Laura Ashley and are absolutely beautiful.
Having a 'busy' floor, surprisingly, makes the room look so much bigger -our bathroom is teeny – the width of a standard bath. We chose tongue and groove cladding and painted it in a darkish grey. The paint above the panelling is what I call Blush Grey (so I can get away with it, having an all male household!) It's very slightly pink, but if anyone asks, its definitely greyish pink haha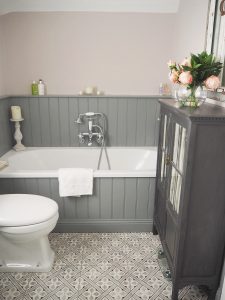 I decided to match the window treatment, to the floor, as the floor is so busy and I didn't fancy a plain blind, and I thought that using another pattern might jar – We have to use a roller blind in here, as we have sloping ceilings, and it's impossible to have curtains – but in a bathroom, I think a roller blind is quite a good idea. The blind is a paler and warmer grey, than the floor, so it's not too contrived. Beryl, our cat, agrees.

Accessorizing our posh new bathroom was the fun bit! I am a serial faffer – I can faff for England.
I love love love peonies and spend a fortune on them, every year, so when I spotted the LA Peonies in a goldfish bowl style glass, vase, I was on it – quicker than a rat up a drain pipe!



They look so real, they even fooled my Mum, who has radar for a faux fleur.
I love having candles in the bathroom, so I thought I'd try the mini diffuser set – which comes with a room spray, two mini candles and a mini diffuser – the bathroom smells delicious!  I've never used a diffuser set before – I thought sticks in a pot was a bit odd – how wrong was I! The set would make a lovely gift.


Next up – towels.
We have a large collection – actually, we have a large, random assortment of terrible towels haha!. Some circa 1995 from when we got married! And some in various shades from purple, to graphite grey. With 3 boys, I thought a coloured towel would be a good idea! Whaaaat a mistake-a-ta-make-a! They just end up splodged with mysterious bleach stains  and look awful.(where do those bleach marks come from?) SO on refection, I think you can't go wrong with white towels.
Fluffy white towels – gorgeous! I love the LA branded towels. They are super soft and fluffy.


I even let the others use them, as they wash so well!


I thought I'd think a bit outside the box, for towel storage –  having a couple of spare towels in the bathroom, along with some loo rolls, easily accessible – got me to pondering. I spent ages flicking through the catalogue, and had a moment of genius! ( genius and madness are not far apart, are they, so bear with!) I decided that a log basket would be PERFECT! (duh, obvs!) I love that the sides are high – hiding what is inside – but the ends are open! And it fits perfectly under the basin.


We also needed a cupboard, and I am a huge fan of antique fairs and car boots and LOVE a mooch round. I found this cupboard looking a bit sad and lost, with undercoat slapped all over it, at a car boot sale – and paid the princely sum of £38 for it. You can read all about it on my blog – it hides a multitude!


So, there we are! Our poor old bathroom is now a gorgeous space, that I love being in. Tempted to move in with a pillow and duvet – it's gone from being my least favourite space, to my fav room in the house!
If anyone wants me, I shall be languishing, prune like, in bubbles, until further notice!