When Laura Ashley invited me to talk about Alfresco Dining, I jumped at the chance as eating outside is one of my favourite things to do in the Summer! (along with talking haha)
But before the best bit ( the eating) can commence – a little prep is needed!
I am all for making things easy – so I'll start with the basics – the tablecloth!
I decided not to use my usual white linen, I find outside dining a slightly risky business, as ketchup is usually involved, so I decided to go off piste and make my own cloth instead. ( I say 'make'… keep reading)
After a very happy 20 minutes perusing the fabric by the metre online, I plumped for pink gingham! And yes, I know it's curtain fabric, but that's ok- I don't think there's any reason why not! I measured the table and ordered 2 metres. (slightly more than I needed)
The fabric arrived with both long edges having a very pleasing frayed rough edge, so I decided to leave it just like that. The two short ends would be easy to hem, but it really didn't worry me, so I call this table cloth 'The No Sew Tablecloth' Huzzah! I am all for making things easy, and let's face it, it really doesn't need to be perfect. It'll all look so pretty no one will notice the un hemmed edges! If it really bothers me, I can hem it later.


I also ordered a metre of gingham in the duck egg colour and made some napkins – I hate measuring anything, so used one of my old napkins as a template and cut round it. The brill thing about using gingham is that you can just cut along the straight lines of the pattern, so it's pretty foolproof. I did spend a while hemming them, but left the pleasing rough edge on some of them. I don't own any napkin rings, so I chopped a bit of fabric off the tablecloth and tore it in to strips which I used to tie round the napkins. I think it looks quite pretty.


Moving on to the glasses – I ordered the LA champagne flutes and champagne saucers


The saucers are actually quite large, so I filled them with strawberries instead. The flutes are gorgeous. Guess what, they're ACRYLIC! Yep!! the flutes and saucers pictured here are completely droppable! Genius! They look SO real don't they!


See that cake stand? Yep, also acrylic! LA have seriously upped their picnic ware game!


I love to have flowers on the table too, and the green jug was just the ticket – it's a beautiful shape and has a gorgeous handle. I love a random selection of blousy 'weeds' from the garden, so whizzed round with a pair of scissors and soon had a large enough bunch for the day  – it doesn't matter if your flowers don't like being cut, they don't have to last long!


I usually dot little bud vases down the centre of the table too, and for a pretty, country look, you can use whatever you have in the garden at the time, even clover and daisies, or just grasses, or small bunches of herbs.
For this tea party, I used some of my fav old china that I bought ages ago, in a charity shop. I love old china and I've said it before, it really doesn't have to match. In fact it's better if it doesn't match! You can pick really pretty pieces up for a few pounds. I am not precious over mine, if it gets broken, I'll just find some more!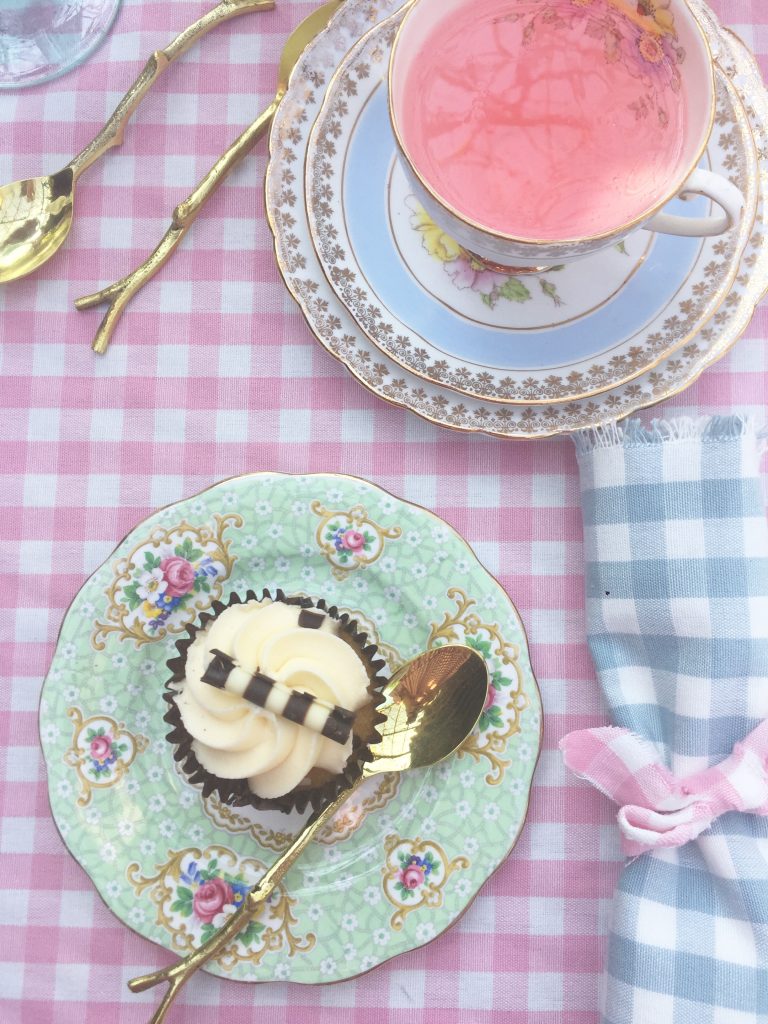 I love vintage tea cups and saucers – have you tried gin and rose lemonade ?? OH MY GOODNESS it's good, it's my all time favourite summer tipple,  and it tastes even better when sipped from a pretty cup and saucer! And yes, the menfolk might roll their eyes at me, but I don't care! I even stick my little finger out. It's a very enjoyable pastime! haha Of course, tea is very nice too…


Gold accents are really fashionable at the moment aren't they and I used the teaspoons from the Heritage Range.
If you find yourself sitting outside until the sun goes down, grab some candles, lanterns, whatever you have, to make the ambience warmer as the light starts to fade. I love using a tall lantern with a pillar candle, and have some pretty storm lanterns dotted around. The tall lantern is perfect .


After all of your preparation  and hard work, you deserve to sit back, relax and enjoy the time with your nearest and dearest. And if you have that vintage teacup nearby, no on will be any the wiser as to exactly what's inside 😉


Enjoy your Summer!
Love