Here is the post I promised! The pictures will speak for themselves  – the villa was FANTASTIC! Like something out of Grand Designs.
If you missed the previous post about actually booking a holiday/break/accommodation through Airbnb, you can read it here
So, upon arrival in Portugal, and once we'd plugged the sat nav in (the villa is located in Galé, a 15 min drive to Albufeira,  5 min drive to Sao Rafael beach, and a 20 mins stroll to Galé beach) and had an ETA,  we texted Ana and Antonio to tell them,  and sure enough, Antonio was waiting outside the villa as we pulled up.
He was really friendly and spent a while showing us around.


The villa is extremely well equipped, sleeps 8 in four bedrooms, all with ensuites, and can accommodate an extra 2 on a sofa bed in the study.
The bedrooms have masses of storage and yes, enough coat hangers! (and blackout roller blinds)


…And the master bedroom has this huge bath! (plus a walk in shower, and his & hers vanity sinks. Bliss!
As is usual with Airbnb, all towels and bedding are supplied – gone are the days of having to pack a suitcase full of towels!
There are pool towels too, and I packed kickoys to use at the beach.
The villa decor is lovely – very chic and modern, and there is an enormous sparkly light that hangs down from the double height lounge area.


(Not vital to know, but fun – there's a laundry chute. OH YES! From the master bedroom's wardrobe, down to the utility room. And no it's not big enough to fit a person, not even a small one lol) & theres a Large 9kg washing machine for when you have posted all your washing down!
The stairs 'float' and link the glass edged mezzanine to the bedrooms



The pool is gorgeous, flanked by topiary tress and there's a beautiful old olive tree on the grass area.


Pool toys are supplied, & I brought some inflatables with us and left them there for the next guests as there's no way we'd get the 4ft doughnut back in it's original box!t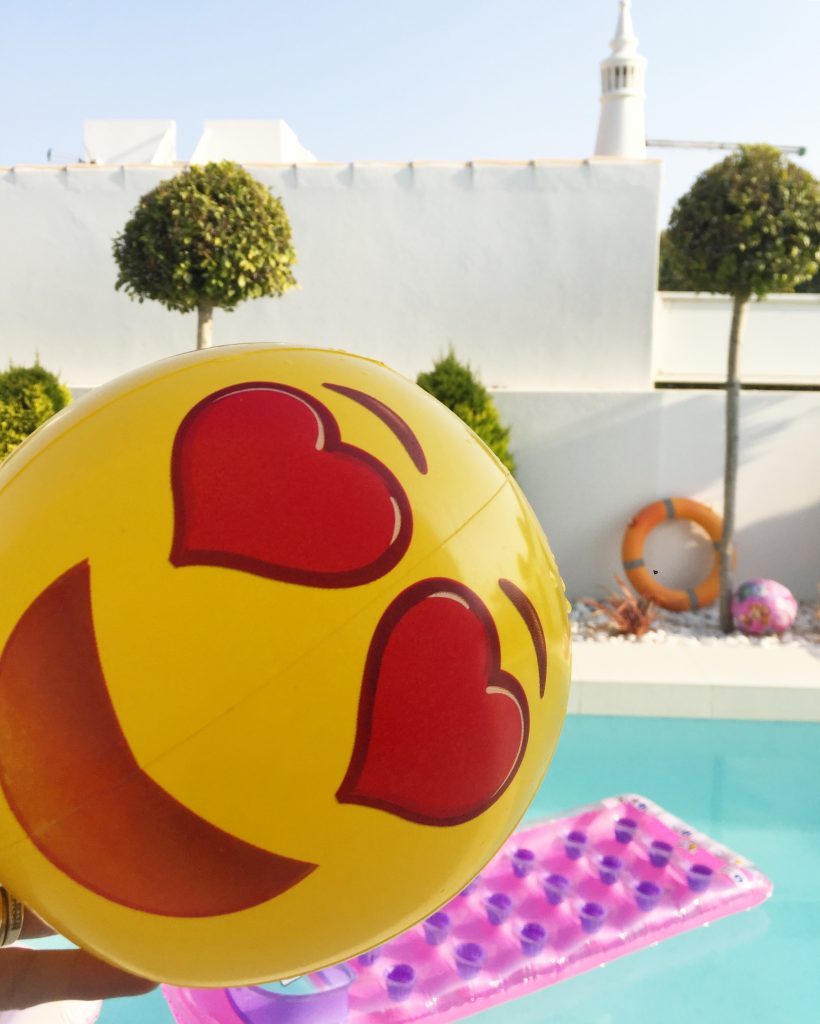 This year seems to be the year of pool inflatables! We took these but saw some fab ones out and about – pizza, unicorns, flamingos, dogs, it was hilarious!



The kitchen is really well equipped – there wasn't anything missing as far as we could see – champagne flutes for 16 people? check. Packed lunch boxes, a blender, a Dolce Gusto coffee maker, and lots of extras like cling film, sandwich bags, washing up liquid, etc. All of which makes you feel so welcome and looked after.


Location wise, the villa is about 20 minutes fast walk from the beach – my lot went for early morning runs and did a good 5 km round trip, including running along the beach front on the boardwalk – really well thought out and very popular with morning joggers.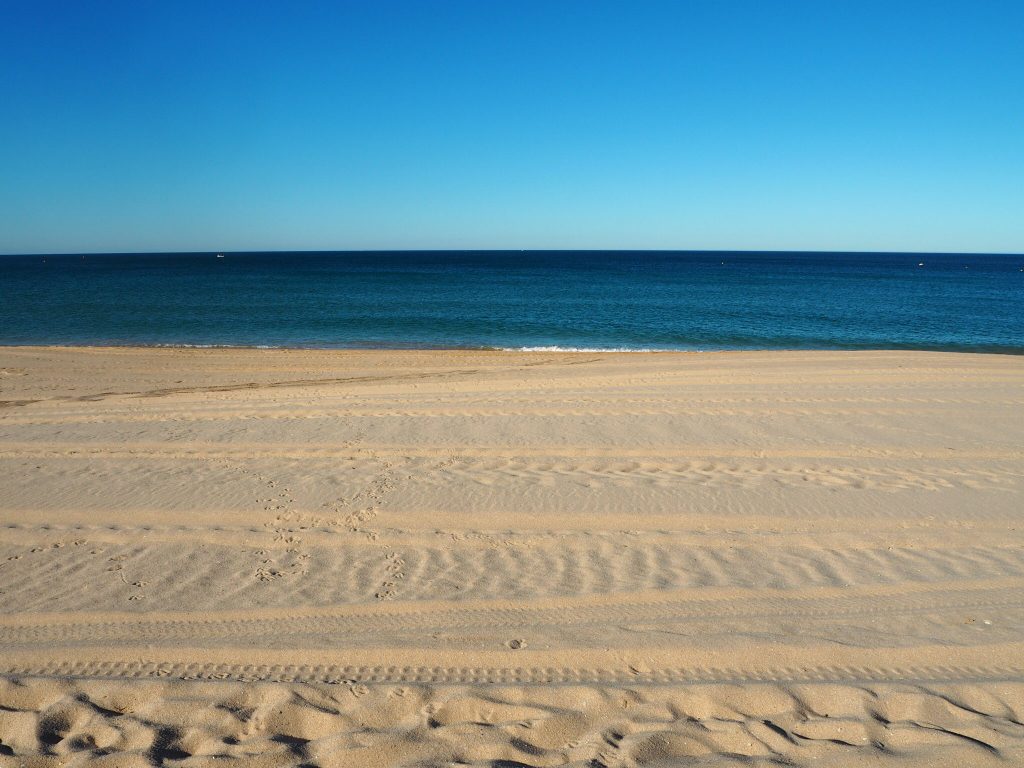 There is a brill little supermarket a few doors up that has wonderful fresh bread and croissants every morning, and a fab fresh meat counter – amazing kebabs and marinated chicken/beef/pork for the bbq.
Right next door, both sides are two lovely restaurants, and also a super little cafe that does lovely food all day, the breakfasts were delicious and the staff are really friendly. Highly recommend the pancakes!
If you want to go shopping, theres massive mall, a 5 minute drive away called 'Algarve Shopping' that has all the shops you could ever need (Zara, C&A and some really fab European Stores with lovely clothes and shoes!) There is a huge supermarket there, and also an enormous food hall.
We arranged with Antonio that he would meet us at the villa at 9.30am on our departure day, and he was there bang on the dot, to return our security deposit fee, & we returned his keys.
It's so important to be able to rely on your hosts to reply to messages promptly and be reliable and we couldn't fault Antonio and Ana.
Anyway – see for yourself – HERE is the link to the Airbnb page – we would give it 10 out of 10 – and I am a fussy customer as we have hosted on Airbnb for 4 years – (we sold our house in Cornwall but if you fancy a look at it you can search the hashtag Perranporthholidaycottage , on instagram- it has permanent residents now though)
As ever thanks for reading and I hope it's been helpful as I know a lot of you have been asking about the villa
Happy holidays!
love…