Easter weekend on lockdown, what else is there to do but make a pizza oven from stuff we had hanging around here. It is a bit like Steptoe's yard haha
Here is a no frills post about how Gav made it – it's not a 'how to' it's just how he did it – there's more than one way to string a cat, so anyone with a decent amount of DIY skills will be able to read this to give them an idea of what's involved and then do their own thing. Gav watched a couple of tutorials on YouTube and then dived straight in – he didn't know if it would work, but he fancied a go.
Gav is quite handy and can turn his hand to most things – he said the hardest part is splitting the oil drum. (IF YOU HAVE AN OIL DRUM YOU MUST MAKE SURE THAT THERE IS NO FUEL INSIDE IT AND IT IS COMPLETELY WASHED OUT!!! – the danger is when you cut it with an angle grinder, the sparks from it will set light to any residue and it could explode. If it's completely clean it's safe to cut. But only if it's totally clean. I can't stress that enough! Cutting oil drums in half can be very dangerous, but safe if properly prepared.
Another very important point – do not use a glavanised bin. You don't want zinc poisoning!
You need
A solid structure to put the oven on to if you want it at an easy height. It can go on the ground of course, but building it up to a decent height makes it easier to use! Gav used a heavy duty racking unit that he cut to size. You could use breeze blocks or similar, but it must bear weight and not be wobbly.
An oil drum – see caveat above as this is really really important.
An angle grinder to cut the drum in half. (protective eye wear and ear defenders too) and a disc attachment to grind off the paint inside the drum
House bricks (ours took between 90 and 100)
Cement
Paving slabs or fire bricks for the base of the oven and your pizza to cook on – we used 2 slabs as we don't have any fire bricks -and they were fine!
A piece of metal pipe to use as a chimney (2 or 3 ft long)
Method
Cut barrel in half and grind off the paint from the inside – if there's a few specks of paint left, you can burn it off when the oven is assembled, during a test fire.
Cut a half moon shape out of one end. This will be the front of your oven.
Cut a hole in the top at the front of the barrel – this will be for the chimney
We had to use paving slabs as we don't have any fire bricks – wash them down well – this is the base of the oven that your pizza will sit on
Lay the bricks on top of the slabs inside as shown – and put the barrel on top
Start laying bricks to the side –  building up the walls – just like in the photo (you might notice we moved it away from the house – not sure how hot it would get!)
Lay them flat – 3 high
Then you need a mortar joint. This seals the oven and allows you to create the angle for the next row of bricks
like this – add a mortar joint between each row of bricks.
Here is a picture of the top with the chimney in and the bricks around it
It doesn't have to be perfect – this is the back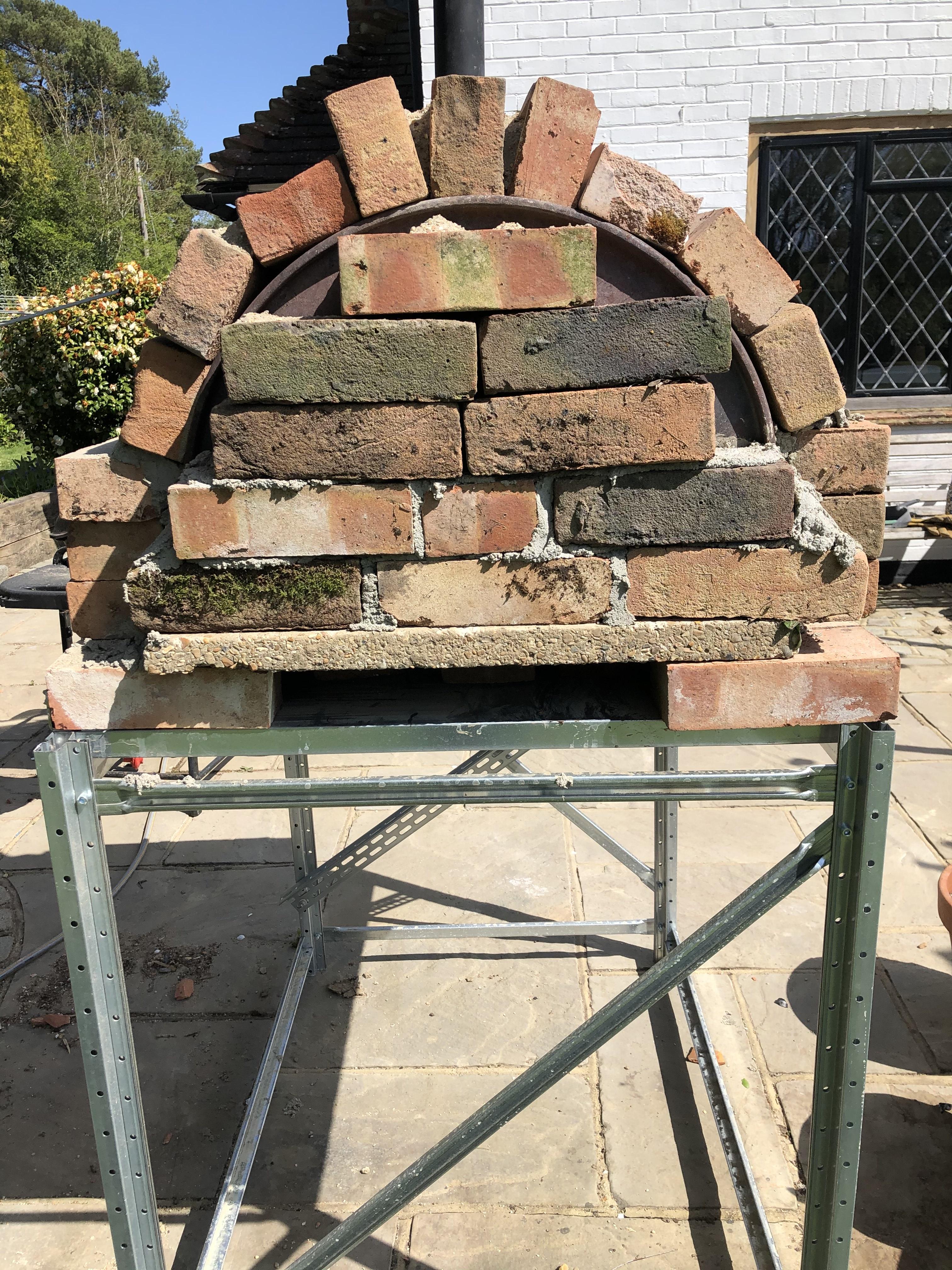 before you cook anything in it – light a test fire. This will burn off any tiny paint particles and make sure the chimney draws.
Gav made a pizza shovel out of some random stuff he had in the garage – it gets so hot the tongs and the gauntlet weren't enough PPE!
Once it is really hot and you've blown the ash out of the way with some bellows, try a 'sacrificial' pizza.
I used this recipe from Sainsbury's for the pizza dough, as it didn't require any proving – the dough was really good, surprisingly!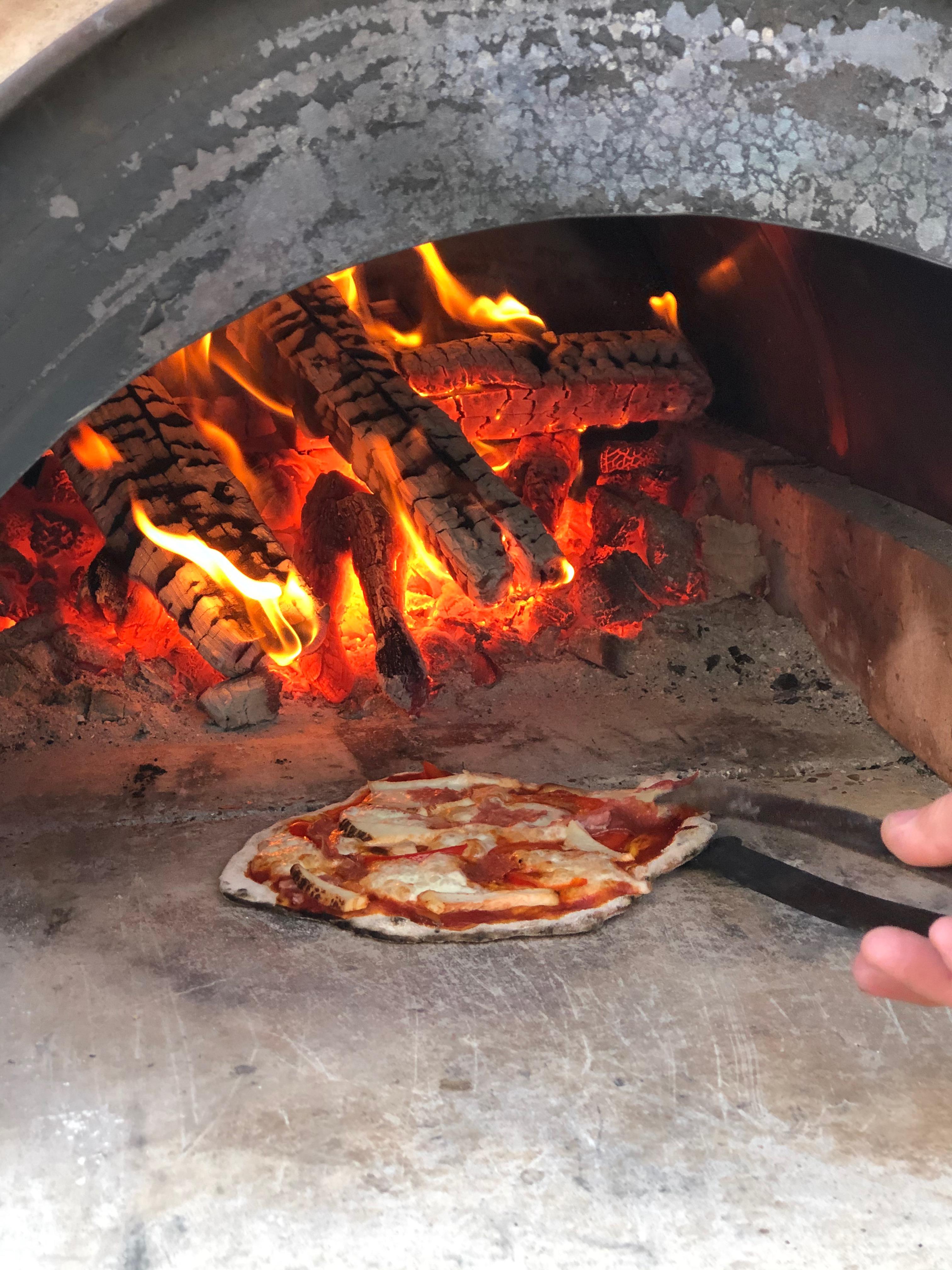 That is pretty much it!
It took Gav about 5 hours to make and cost nothing -luckily we just had the stuff to make it dotted around the place. We call Gav's garage 'The Garage Of Plenty'  haha! and the bricks were left over from the extension.
I should now be able to show you a perfectly set table and all the delicious pizzas and wine, but we were far too busy eating them to remember to take a photo! The pizzas were delicious, cooked in a flash and eaten in seconds!
Good luck with yours! We'd love to see it if you make one!
As ever, keep safe and thanks for stopping by
love