Hello !
I thought, seeing as I get asked so often about the lounge – that I'd do a 'What is it and where is it from?' blog post
When I said I wanted to redo the lounge, Gav rolled his eyes as our old lounge was ok really – thing is, he's not the one who cleans it and I knew the ugly truth! I could make it look ok for a photo but there was no hiding the fact that the sofas were in a state, the carpet was the wrong choice and had been since it was laid 10 years ago, and I was getting bored of that purple wall. Everything was tired, including me, of it!  Plus all the paintwork was showing its age although considering it had seen 10 years of three young boys growing up, I don't think it owed us anything!
So let's start with the old sofas – they were from sofadotcom and they were the Bluebell range – Really comfy and we all loved them. My only negative point would be that after 10 years, the purple had faded in places to a dirty grey colour – but I think if you place your sofa under a window, that is bound to happen. Incidentally a friend bought the same sofa at the same time, in red velvet and hers still looks brand new. I think 10 years was a fair stint really. Considering they were subject to toddlers, young boys and all that comes with that! It was the seat level yoghurt faces toddling around that used to really stress me out haha!! That and the ground in grated cheese. And then we got Molly and she hopped up and sprawled out and we let her.
Here's a 'before' pic. The ceiling light is from Laura Ashley – we wanted to change the lighting in here, as it was always either too bright or too dark! But that was a pretty ceiling light.
I loved that rug too  – but unfortunately A) it didn't go with the new scheme and B) it came to a sticky end in a dog related incident – that is all I will say about that, incase you are having your tea!


First things first – clear the room – I did love that shelf – but I had other ideas, so the shelf had to go!


In it's place I planned  a tongue and groove board and a peg rail
PEG RAIL /TONGUE AND GROOVE WALL
The T&G was from Champion Timber And came as primed sheets which were pretty much glued to the wall with grip fill. We hired a pro (Pete) decorator/handy man and he came on the same day as the Sparky -Will – (who happens to be my brother) – and  together they navigated the electric points and Pete did the cutting etc.
I have had lots of questions about the peg rail – I looked online and it seemed like it was going to cost a bomb to get one made that wide
So I looked here – Mine was in clearance and painted  grey –  I ordered 5 – Pete butted them together and repainted them. I linked to some they have in stock right now, but it might be worth you looking around. Here's a pic of what I ordered and the price I payed



With hindsight – and it would have possibly been cheaper, Pete said he could have just ordered a length of wood and some pegs and made one himself. I almost returned them and asked him to make one, but then I thought 'They are here now, can't be bothered to faff about returning them' so we kept them and I am really pleased with how it turned out. If you make one, you can choose how far apart to put the pegs – everyone here said I have too many pegs – TOO MANY PEGS??!! Is too many pegs even a thing?!! I like having all that choice of where to hang stuff! Ha!

the T&G is up and the peg rails are on!
PAINT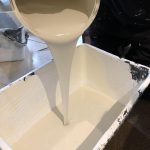 Next up – paint. If you have followed me for a while you'll know how much I love Farrow & Ball – I enjoy how the chalky colours just all 'go' together and I like that the choice is wide but not huge (I literally can't cope with the mixing cards in Homebase – so much choice I end up not making a decision !)  And I love that with F&B, even if it's wrong, it's right – if you see what I mean! I guess what I am saying is that you can't make a wrong choice – you can make a choice and it turns out different to what you planned, granted, but it will still look gorgeous. They explain it far better than me, here. 
So when they announced their new range of colours I was all over it!


I ordered School House White  – didn't even get a test pot – I trust the colours totally.
Pete painted EVERYTHING in it – even the skirting and yes, the ceiling! I love how cosy it makes the room feel! I went on a F&B painting course, ages ago – run in one of my fave local shops and the F&B expert taught us a simple trick – to make the walls look taller – especially in our case in a lowish ceilinged cottage, bring the paint colour right down to the floor. She also said to treat the ceiling as the 5th wall – don't immediately presume is has to be white  –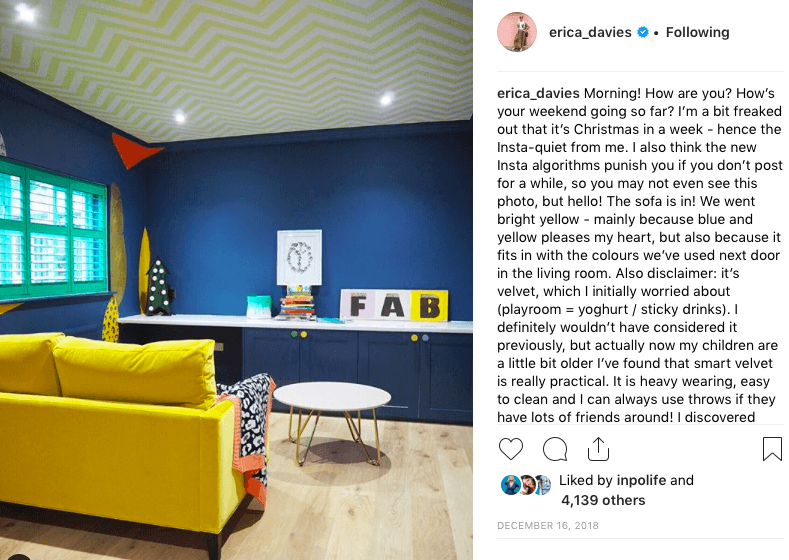 I spied this on Erica Davies' IG which I think illustrates the point!
(We used Estate Emulsion and Estate Eggshell as we like the look to be 'flatter' than the slightly higher sheen of the Modern Emulsion or Modern Eggshell choices)


Side note – we painted everything dark, in our other room – all the woodwork on that wall, the whole shebang and I think it looks much better not being broken up by white doors and white skirting! Yes they are white on the other side but I don't mind that.

 It's still waiting for its gallery wall – I am taking Inspo from the queen of gallery walls – Lisa Dawson Style 


Right! Back to the lounge!
FLOORING
For AGES I have yearned for a natural carpet. About 15 years ago I was visiting a friend in Devon and she had just had a natural herringbone sisal carpet laid throughout her whole house – I don't think I ever saw such a gorgeous carpet and I always wanted one – except I was always put off by people warning me that it wasn't soft underfoot, would shrink and stained easily. Apparently it goes slippery on the stairs, so I was warned off from there too. So the itch never got scratched – until now!!! At the ripe old age of 48 I decided 'stuff it' I need to get it out of my system! There's worse rash behaviour than ordering a sisal carpet after all!
AND I LOVE IT!!!!!
Obvs no one is allowed to walk on it or drink anything near it – (jokes but wishes it was true)


Here is a close up – and a link    But ours is definitely not orange like the pic in the link!
We ordered ours through Manns of Cranleigh (Fibre Carpets, Herringbone Sisal Natural flooring in Pewter) We always buy our carpets there and Alex and Leon are BRILLIANT.


Here it is next to the kitchen floor (incidentally that's THIS – St Arbois tumbled limestone from Mandarin Stone. We absolutely love it – its been down over 10 years and I would have it again in a heartbeat.)
We have found the carpet brill so far- especially with Molly – the main risk is liquid spills – even water as it leaves a tide line apparently, so I am thinking as long as no one spills anything we are on to a winner. Mud hoovers up really well, this we know. Cheers Moll.
SOFAS AND CHAIRS
Like I said earlier – our trusty old Bluebell sofas were from Sofa Dot Com and we loved them.
This time however, we wanted loose washable, changeable covers and Ikea was where we found them. Funnily enough they are really similar to the Sofa Dot Com ones. We chose Stocksund Sofas and ordered 2 of the largest size. We also bought spare covers in a different colour, to switch up the look.
They arrived almost flat pack in boxes that didn't look big enough!! But they went together really well (only had to unfold them and 'click' them in to position and add the arms and legs) and we are really happy with them – especially for the price. (£530 each)


CHAISE
This beauty is my favourite chair EVER. It's the same make as our old sofas – its the chaise version of the Bluebell sofas and we LOVE it. It's officially MY chair! When all 5 of us are here, it would usually be me that gets the short straw and sit in the middle of one of the sofas – no one likes the middle haha!! No more middle for me though! If you want me you will find me lounging here most nights. It's so lovely to sit with my feet up.
We chose it in Armour Velvet  which is bluer than it looks on the website – its more true, colour wise in my pics.


LIGHTING
Will added some downlights and we switched the Laura Ashley ceiling light for a much simpler pendant from Next – it comes in other styles and you can buy a spare glass shade for £2.50


It's all dimmable and with our side lights the ambient lighting is now lovely.


Our wall lights are from Jim Lawrence and the beautiful little bee shades were made by Anita – at Hearts and Glitter.   Anita makes bespoke shades and is so talented – well worth a look if you need new shades.
OTHER DETAILS
I love switching cushions around to change the look – my grain sack cushions were made by my lovely Mum out of vintage grain sacks (try eBay)
This rug is from Very – but with hindsight I'd have ordered a larger size – it's a bargain in the sale now !


The little side table with the legs was a bargain in the Urban Outfitter sale and the star cushions are from NEXT


The random assortment of side tables are all from antiques/flea markets and ranged from £2 to £10. The Victorian trunk that we are using as a coffee table was also from an antique fair that we bought just after we got married and it houses ALLLLL the lego known to man! lol
The apple crate side board was from the same place – it's so worth going to antiques fairs – you never know what you might find! Mum and I have been going to Ardingly Antiques fairs for the last 25 years – it's a fab day out. (Sledge in pic – also from an antiques fair) So much of our furniture was sourced there and there's always a canny deal to be had! Don't be scared to barter. Have look here – there's bound to be one near you.


The pine TV cabinet was £10 from Ebay – I always think I'll paint it as its border line orange pine (and you know my feelings on orange pine !) – but somehow it's escaped the paintbrush.
And last but by no means least  – My Be kind print – its from Margot in Margate  – Her art is fabulous – I have my eye on a couple more prints to hang from the peg rail (I bought the frame in Ikea) 

I think that about wraps it up! I hope it's been helpful! Any questions just ask!
As ever
Thankyou for stopping by!
love 


Some products were given to me
So I'd like to thank Farrow and Ball for supplying the paint
Sofa dot Com for offering to supply a sofa and letting me switch to a chair
And Anita for making the lampshades
The rug is part of my partnership with Very
A couple of links are affiliates. None of these companies asked me to write a blog post or include them in any blog post. I wanted to write it as I get asked so often – I hope that is all clear for you 🙂