The Silhouette Portrait – Competition details at the bottom of this post!
The Silhouette Portrait is a really cool piece of kit. Like, REALLY COOL. I am so proud to be working with Silhouette and to help create their first TV ad – (my first TV ad for that matter, too!)
If you are crafty, you'll probably know what it is. And I expect you want one, if you haven't got one already.
The Silhouette Portrait is a portable, digital cutting tool that enables you to cut or draw pretty much anything you want. In any shape you like!
So who is it for?
Any fans of home craft! It's the ULTIMATE Faff the Gaff tool!!


The Silhouette Portrait is the packed with tech and is about the size of a home laminator.


Featuring Bluetooth, you can create a design from your phone, and send it wirelessly – or, because of the PixScan technology, you can even snap a design on your phone, import it in to the software and then cut it out. It cuts card and paper stock, and also vinyl, fabric, leather, anything up to 2mm deep. Up to 8" wide and up to 10m long!! You can buy many many different materials to cut suitable for heaps of surfaces. You know the popular 'Love Island' style drinking bottles, personalised with your name? You can do that.
Quilter? You can precut your fabric!



Fancy tarting up your t shirt?


To make it even easier, there's an App! Search 'Silhouette Studio' in the App Store.


You can print professional looking stickers


Create beautiful invites and cards


And Merch! (at last I have a t shirt with my name on!)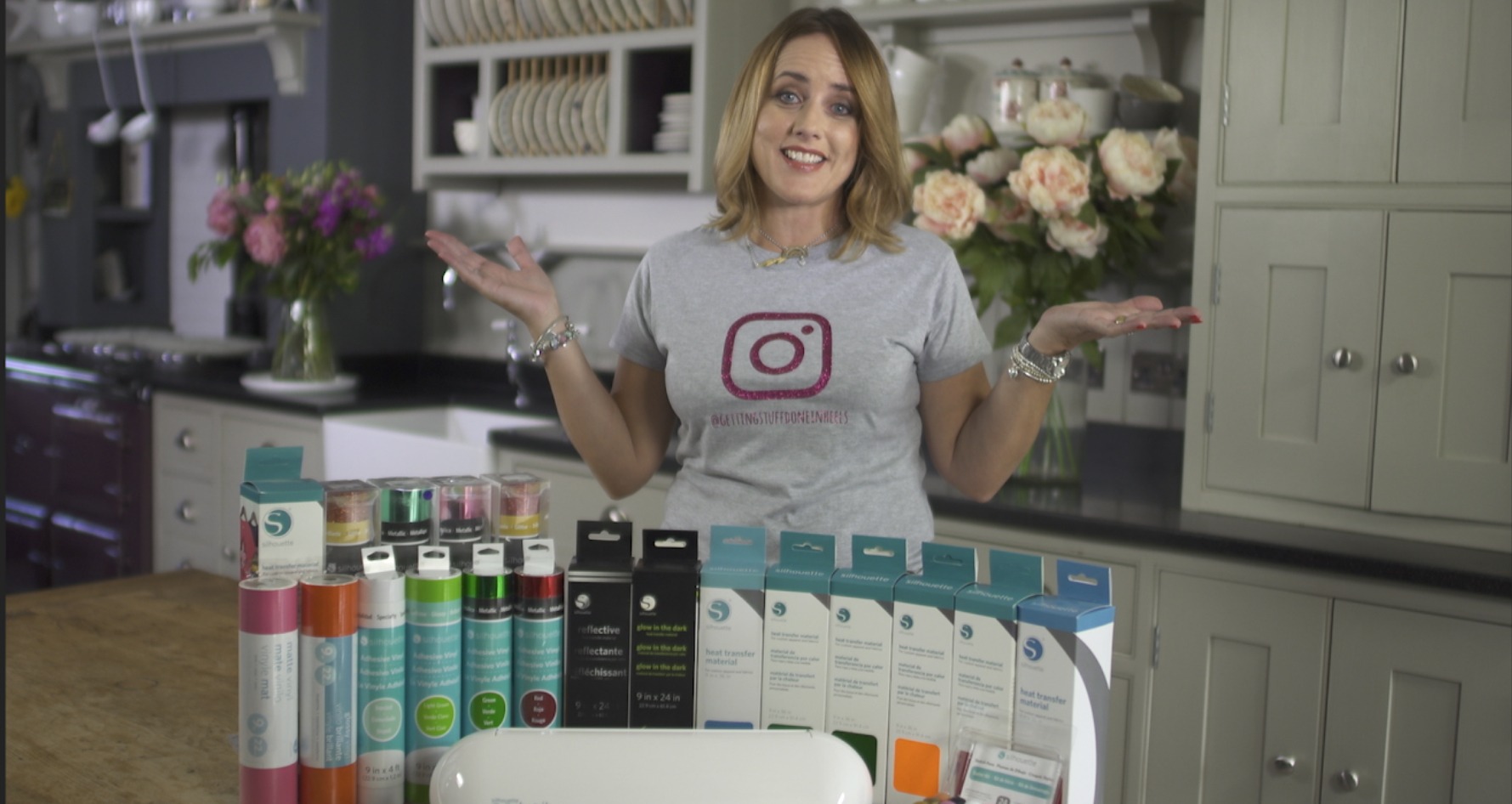 The Silhouette Portrait range is HUGE – this is a tiny amount of what's on offer.
Here is a link to The Silhouette Portrait – it is currently £145 Freepost UK
HOWEVER! Silhouette has asked me to tell you about a competition they are running on their Instagram page. There will be FIVE winners!  So you could win yourself one of these machines to play with!
The rules are simple – follow @silhouette_uk on Instagram. Follow me (which you probably are already)
Find the advert on their grid on Monday 19th November 2018 – and leave a comment saying why you'd like to win.
You can enter as many times as you like. UK only. Winners will be chosen at random  and I will announce the winners on my stories.  The winners IG handles will also be announced on @silhouette_uk 's grid image. The lucky winners will also receive a DM so remember to check your inboxes!
Closing date for entries is 14th December 2018 – Winners will be notified soon after !
Here's the little telly ad I helped with. See all the stuff you can make!

And here is my personal favourite version of the ad. This one won't make it on to Sky …
As ever – thankyou for reading, and if you enter the competition, lots and lots of  luck!
Be sure to tag your makes with #silhouettewithsally !
Love
Sally x
#AD – you bet it's an AD! It's being aired on SKY up until Christmas so keep your eyes peeled!